Reigning Formula 1 world champion Nico Rosberg says he found the internal dynamic with Lewis Hamilton at Mercedes "very positive" in 2016 and hints to the contrary are "a compliment".
Rosberg and Hamilton engaged in three consecutive internal fights for the F1 world championship between 2014 and '16, which created a difficult relationship between them, and with their Mercedes team.
Last month Hamilton suggested Rosberg's shock retirement the previous winter had helped him reach a new level this season, because Rosberg leaving had improved the atmosphere inside Mercedes.
When asked for his reaction to Hamilton's comments, Rosberg told Autosport: "I'll read you a quote. This quote is from Lewis Hamilton: 'When you have two strong drivers in the team as we had, well, when the battle is within the team, it's like a hurricane with strong energy and it is just stuck in the room'.
"That's a quote from Lewis and I'll take that as a compliment!"

F1 RACING: How Rosberg 'messed with Lewis's head'

Rosberg suggested Hamilton would have felt differently about things had he won their 2016 championship fight.
"I won, so I can imagine maybe that wasn't so positive [for him] - I would be saying the same if I lost last year, that it wasn't too positive for me," Rosberg added.
"I found it very positive. We were probably the most successful team-mate pairing in the history of Formula 1 on the track.
"We were pushing each other to the ultimate high level. Of course, it's not easy, but that's what in my eyes keeps the drive going and the motivation high. For me, that was largely positive.
"Clearly it was an extremely intense and challenging situation, but all the more rewarding then to come out on top, and against Lewis, who was rewriting the record books himself.
"To come out on top against him was so damn rewarding, and all that has come together in me being just absolutely so entirely fulfilled with my career, because the ending was just perfection for me."
Rosberg and Hamilton had been childhood friends and rivals in karting, before their relationship broke down during their F1 title fights.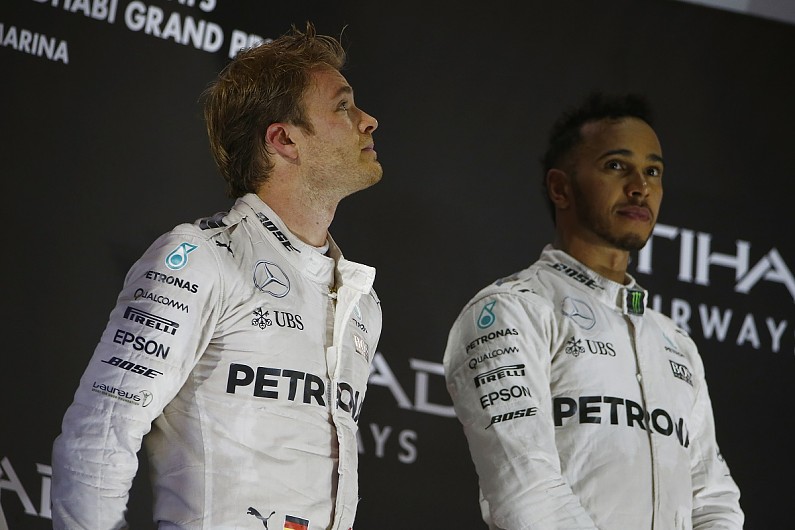 Rosberg says he is open to having "normal" conversations with Hamilton again, now they are no longer competitors.
"The fact is that I'm not at all a competitor anymore - it's a completely different ball-game now, I am 100% out," Rosberg said.
"That changes a lot of things and therefore I don't see why, with time, we can't start having conversations again in a normal way.
"I've always had great respect for him, I don't have anything against him, he was just a competitor and then naturally there was this difficult situation, but the base respect was always there.
"I still respect him as a person and as a racing driver - I always will and always have. That always remains and remains since we were 14 years old."