Fernando Alonso believes newly-crowned Formula 1 world champion Lewis Hamilton had it "too easy" on his way to the title in 2017.
Hamilton was embroiled in a close fight at the top of the standings with Ferrari's Sebastian Vettel for much of the year - but as Vettel's championship challenge unraveled after the summer break, Hamilton romped to his fourth world title, sealing it at the Mexican Grand Prix with two races to spare.
Alonso feels that Hamilton did not have a particularly hard time en route to becoming champion this year, suggesting that the absence of former team-mate Nico Rosberg - who retired after beating Hamilton to the crown in 2016 - left him with a clear run at the championship.
"It was very easy this year, no opponents," Alonso said, adding that he hopes McLaren can offer stronger opposition next year when it switches from Honda to Renault engines.
"Last year he had Nico until the last race, fighting every single race.
"This year was too easy. Mercedes four races to the end constructors' champion, Hamilton three races before the end drivers' champion.
"Hopefully McLaren-Renault will change this easy time for them."
With Hamilton forced to fight his way through the pack after suffering a puncture on the opening lap, Alonso got to battle the Mercedes man for ninth place in the closing stages of the race.
He managed to keep Hamilton behind for several laps, but eventually had to yield.
"At the end with Hamilton, as soon as you start battling, you lack a bit of straightline speed," Alonso said.
"We tried to brake a little bit later every time, tried to defend the position but it was not possible."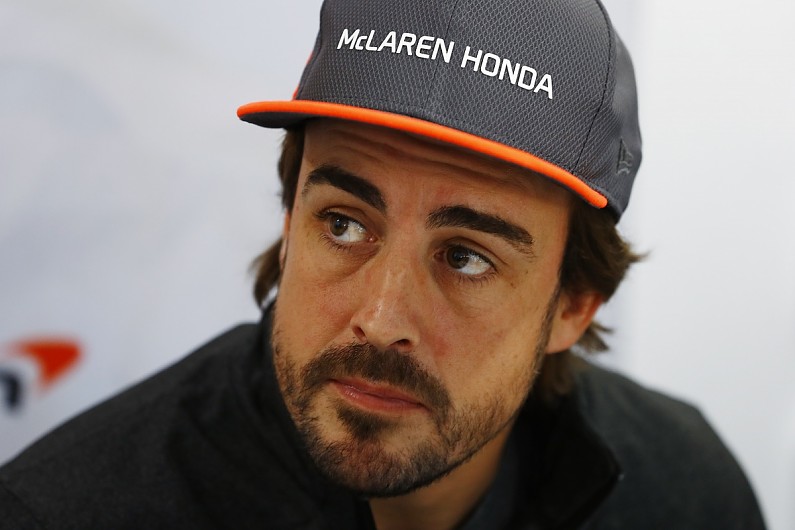 Asked whether the late-race battle was a way of reminding Hamilton about himself, Alonso said: "I think he knows, he knows. He knows also how strong the McLaren car [is] in the corners, he saw also today.
"Next year hopefully we can give a little bit harder time to him."
Having started the Mexico race from 18th due to engine penalties, Alonso fought his way through the pack to finish 10th, scoring a point to bring his 2017 tally to 11.
"It was good - overall we start last, we finish in the points, which is a good target for us," he said.
"We had the speed all weekend, the car kept feeling very nice, very good handling, and good balance throughout the race.
"We lack a little bit of straightline speed to attack or defend, so we [were] stuck behind the Sauber [of Marcus Ericsson] for half the race and then we could not pass [Kevin] Magnussen.
"And we are very vulnerable when we are in front of people."