Daniel Ricciardo will take a Mexican Grand Prix grid penalty after the Red Bull Formula 1 team decided to change his Renault engine on Sunday morning.
Ricciardo will give up his seventh place and drop to the rear of the field, joining the already penalised Fernando Alonso, Stoffel Vandoorne and Brendon Hartley, and Pierre Gasly, who did not take part in qualifying.
Ricciardo is getting a new V6, which will be his sixth of the season, plus his sixth turbo abd seventh MGU-H. He will receive a 20-place penalty.
"I think I'm going to start 16th or 17th," Ricciardo told Autosport.
"I'm going to charge. I'm going to use every rpm that I've got!"
His engine was already high mileage, and he retired from the United States GP when it switched off, although Renault believed that it has escaped damage.
The high temperatures and unique high altitude location of Mexico City have now nudged Red Bull towards a change.
After qualifying on Saturday, Ricciardo admitted that the team was considering a strategic change that would give him fresh equipment in the last two races.
"With the problems Toro Rosso has had this weekend, there's some doubts with what we've got at the moment," he said.
"This weekend, this engine is towards the end of its life and this track with the altitude and that, it works them a lot harder.
"We knew there would be a bit of a risk here, but for sure there's been quite a few failures this weekend so far."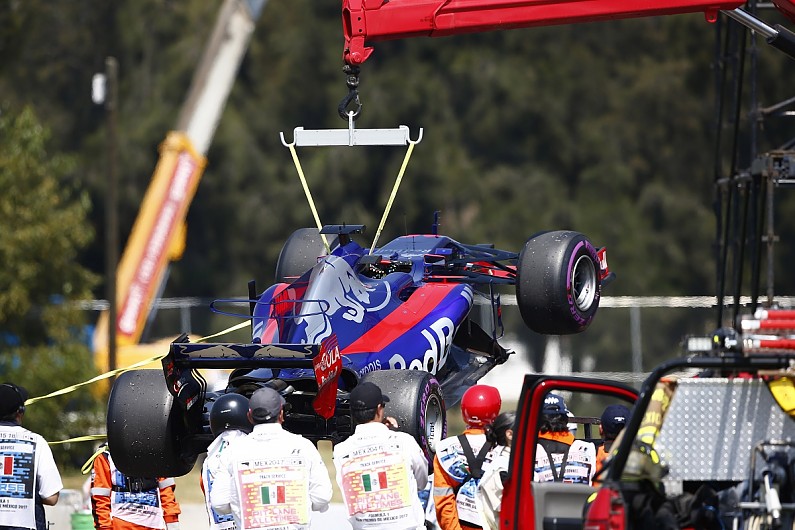 Hartley's penalty was also confirmed on Sunday morning, with Toro Rosso fitting a new engine, turbo and MGU-H.
He had secured 13th on the grid in qualifying but then suffered an engine failure on his second Q2 run.
Team-mate Pierre Gasly, who described his weekend so far as "crazy" and "painful" owing to all the reliability problems he's suffered, will take a new turbo for the race, having failed to participate in qualifying.