Formula 1 drivers are bracing themselves for the toughest mechanical challenge of the season in the Mexican Grand Prix, which is set to take a toll on engine and brake cooling.
Mexico's high altitude means the air is less dense and that makes it much harder for teams to keep the temperature of their cars under control.
Drivers have had to lift and coast at the end of straights to protect their brakes and engines from overheating in practice, and the situation will likely get worse in Sunday's race.
"It's a tough circuit for cooling, probably one of the most difficult of the year, because of the thin atmosphere and the huge amount of braking you've got to do without the benefit of drag," explained Williams technical chief Paddy Lowe.
"With the turbo engine, unlike a normally aspirated engine which is down on power, these engines are running normal power.
"So, you've got all the same heat, or in fact more, because the compressor is doing even more work.
"Then you get less cooling because there's less air mass through the radiators, but even more heat than normal, so it's a double whammy.
"We lift and coast everywhere, for fuel, tyres, brakes, and cooling. Probably it's more about cooling than the other things."

Vettel takes pole for Mexican GP
Renault driver Carlos Sainz Jr said cooling was "the biggest concern for all of us for the race" when asked by Autosport.
"We know we were very on the limit in P2, and in the race it will be always like in Mexico - a bit of a race for survival on the reliability side," he said.
"It is the toughest of the year.
"In qualifying you can have a really good time, but in the race something can go wrong."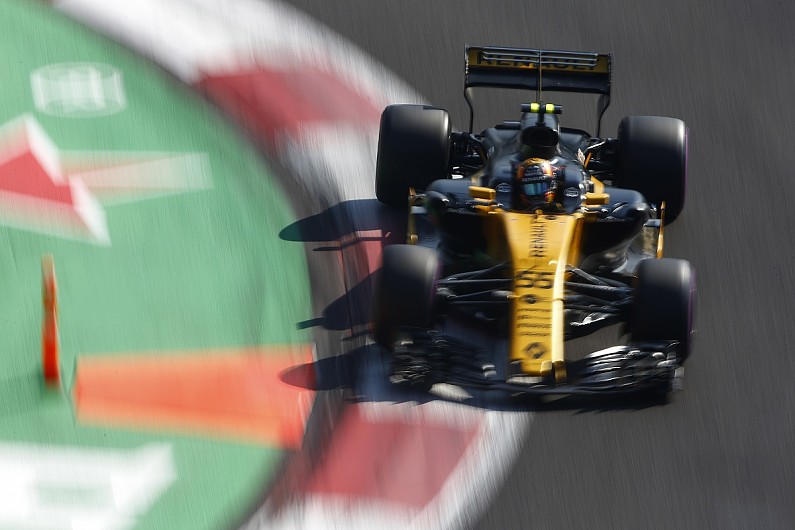 Renault F1 managing director Cyril Abiteboul admitted there have been some big headaches in working out how best to set up the car to cope with the unique demands of Mexico.
"We have to be extremely careful in the way that we are approaching the race tomorrow," he said.
"It may be a bit of a procession, I think we have that risk.
"People may freeze their position and try to go to the end, because between the low overtaking probability or the high risk of running in very difficult conditions."
Red Bull driver Daniel Ricciardo said: "We can't be on someone's gearbox for 20 laps.
"I think it should suit us, obviously if we get close we try and attack straight away, but there's going to be management of brakes and cooling."
Mercedes, whose drivers are starting on the second row behind Sebastian Vettel and Max Verstappen, is hopeful it has done enough to keep their cars under control.
The marque's motorsport boss Toto Wolff said it "is certainly going to be difficult", adding: "I hope that we have, or think we have, taken a bit of a margin and considered that."