Formula 1 race director Charlie Whiting says accusations the FIA stewards are inconsistent in dealing with track limits are "without foundation".
While Max Verstappen remains angry about being given a penalty for cutting the track when he overtook Kimi Raikkonen on the final lap of the United States Grand Prix, Whiting says the issue is an open and shut case.
"All in all, I think the accusations of inconsistency are pretty much without foundation," Whiting said.
"We have to take a practical approach to this. The only time that it was absolutely clear that the driver gained an advantage [in Austin], the driver was duly penalised and that is really where we are coming from."
While fans have pointed out that a number of other drivers ran wide in Austin without sanction, Whiting explained that live data broadcast to the stewards gives a definitive answer on whether or not a driver has gained the 'lasting' advantage defined in the regulations - a test none of the other transgressions satisfied.
"We can look at a particular lap time, look at that mini sector time, and you can see whether or not the driver gained an advantage," said Whiting.
"Leaving the track is not an offence in itself, but if a driver does so he must rejoin the track safety and without gaining any lasting advantage. Those words are really important in this case.
"There were a number of occasions when drivers left the track during race and practice that were not formally looked at by stewards purely because no lasting advantage was gained.
"The point here really is that the stewards felt he [Verstappen] gained an advantage. He shortened the track and clearly he was off track and he passed another driver at the same time.
"So, for them the decision was quite simple technically, but emotionally it was not so easy because the decision had to be made quite quickly."
No clear solution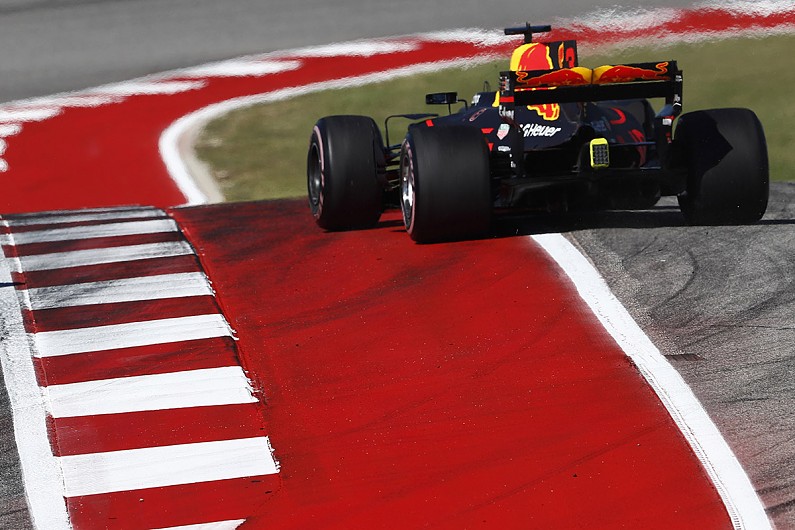 Whiting said the only way to make track limits "unambiguous" would be to "use very big kerbs", which would not be acceptable to modern safety standards across motorsport disciplines.
"We have gone away from gravel now for years now, which has given rise to the kerbs that we have now," Whiting said.
"There is also the complexity of a track trying to cater for all types or cars and bikes and things like that. In COTA (Austin) they go to extraordinary lengths to ensure that the two can coexist."
Whiting reckons a "zero-tolerance" approach to track limits wouldn't work either because "you will be forever reporting drivers".
"They will do it multiple times during the race and you have to monitor every corner on every lap for every driver to a very high precision," he added.
"With great respect to other formulae, we don't need that in F1."