Formula 1 race director Charlie Whiting feels Max Verstappen owes FIA steward Garry Connelly an apology for his United States Grand Prix outburst.
Angered by the controversial penalty that cost him his podium finish in the Austin F1 race, Verstappen blamed one steward in particular for the decision, dubbing him an "idiot" and a "mongol" in post-race interviews.
Last year Sebastian Vettel sent formal letters of apology to both Whiting and the FIA after telling Whiting to "fuck off" in a radio message during the 2016 Mexican Grand Prix.
Whiting reckons Verstappen should make similar amends.
Asked about Verstappen's choice of language, Whiting replied: "I would prefer not to comment on that for the moment.
"Seb, for his little outburst last year, did apologise profusely.
"I haven't heard any such apology just yet from Max but it would be nice if he did."
Though Verstappen later said his remarks at Austin were not aimed at anyone in particular, the context of the interview indicated that Connelly was the official he was upset with.
Verstappen had also lost a podium to a post-race penalty at Mexico City last season.
Connelly had been a steward there as well, a fact both Verstappen and Red Bull team principal Christian Horner pointed out in the aftermath of the United States GP.
Asked to respond to allegations that Connelly was biased against Verstappen, Whiting said: "The statistics I have seen don't paint the correct picture. It is just coincidence that Garry happened to be there.
"You cannot tie the two together. I know Garry well well and a more honest and scrupulous person you could not ever come across.
"Any sort of idea that he may have it in for a driver is wholly unfounded."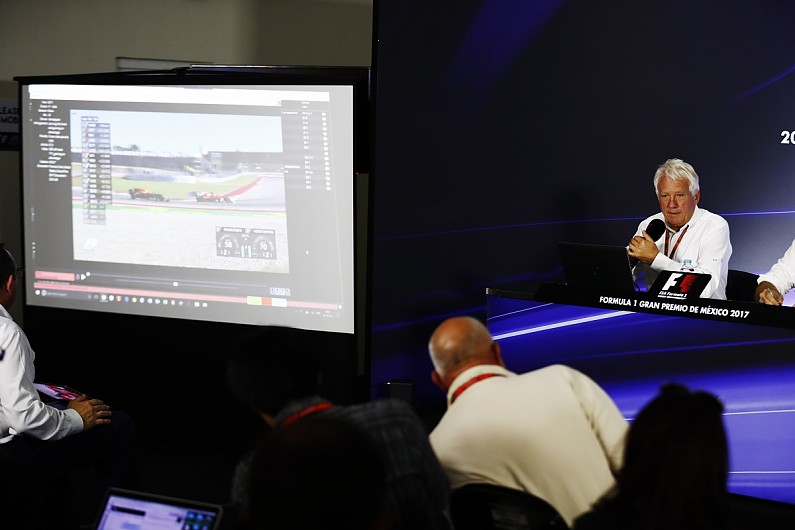 Whiting added that F1 goes to "considerable lengths" to ensure penalties are applied consistently by the championship's rotating cast of stewards.
"We have a set of guidelines, for the stewards, and they have all the events, whether the event occurs in FP1, quali or race, what the penalty should be," he said.
"The guidelines are there to help stewards be consistent. It will tell you exactly how many points should be awarded if you do this. A reprimand for this and no [penalty] points, for example.
"So we go to quite considerable lengths to make sure decisions are made consistently.
"There is this difference between reality and perceived reality."