The FIA is planning further tests of its new biometric gloves with Formula 1 drivers in United States Grand Prix practice.
The governing body hopes the gloves, initially tried at the Hungarian GP, can be a game-changer for helping advance medical knowledge.
The Red Bull, Force India and Haas teams are poised to get their drivers to trial the devices at Austin, with a final decision on who runs them due ahead of opening practice.
The gloves, which feature sensors built into the palm area, help monitor a driver's heart rate and blood oxygen levels, so in the event of an accident, medical staff are better able to assess their condition remotely.
The technology is a joint project between F1's medical car driver Alan van der Merwe and F1's doctor Ian Roberts, who have worked on the idea with the FIA.
Van der Merwe said: "It is about seeing the unseen. When we are on the way to an accident, what happens between the impact and getting there is currently unseen.
"A driver could be unconscious for 30 seconds and we would never know because the driver would never tell us about it.
"Having that information at hand will help teams and drivers, because we will be better able to assess things and make more informed decisions on the back of it."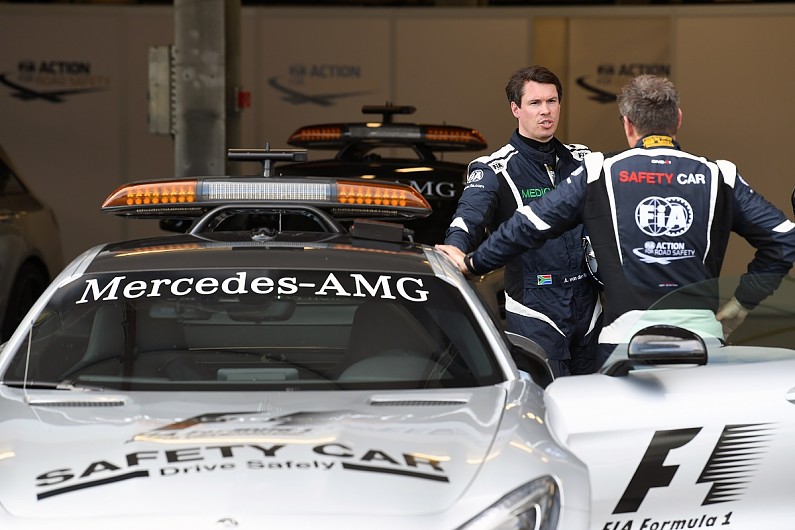 Roberts added: "If the driver has a big crash, and does not get out of the car, is there something happening to him? We don't know at the moment until we get there.
"All the current technology in terms of monitoring drivers is clinical based - and clinical monitors are designed to work with nice dry, warm, well lit and very still patients. Movement, for example, will destroy your monitoring.
"There was nothing to our knowledge that was available in that hostile environment that is the racing car."
The biometric gloves feature a lightweight optical sensor and separate battery pack, which will ensure the glove is still able to keep sending data even if the car's power has been cut.
The data is transmitted wirelessly and is capable of being picked up once the medical car is within 500 metres of an accident so that doctors have time to prepare.
Roberts and van der Merwe believe the potential to get data right from the moment of impact will be beneficial to the wider medical world.
"We've never had data that gives us an entire timeline from impact to when a driver gets to a hospital or is fully recovered," van der Merwe said.
"If they do end up in an ambulance or helicopter, we can have this interesting window to see how somebody's condition evolves when they get there."
Roberts added: "This is partly a test bed, because we know we can get this to work in the harsh environment of an F1 car, so it will work in other harsh environments."