Formula 1 title contender Sebastian Vettel fears a "bad surprise" as Ferrari assesses his gearbox for damage following his collision with Lance Stroll after the Malaysian Grand Prix.
The left-rear corner of Vettel's Ferrari suffered heavy damage when he tried to go around the outside of Stroll's Williams, which was moving off line to pick up rubber on his tyres, on the slowing-down lap.
The stewards deemed neither driver was at fault in the incident.
Ferrari has sent Vettel's gearbox back to Maranello for an inspection to find out whether it can be saved.
If it is damaged beyond repair, he faces a five-place grid penalty for a new unit at the coming weekend's Japanese GP, unless Ferrari can convince the FIA that this is a case of force majeure.
"We'll check [the gearbox] but yeah, for sure that could be another bad surprise this weekend," said Vettel.
"I hope not because it was completely unnecessary."
Vettel - who finished fourth having started from the back of the grid - had to get a lift back to the pits from the Sauber of Pascal Wehrlein.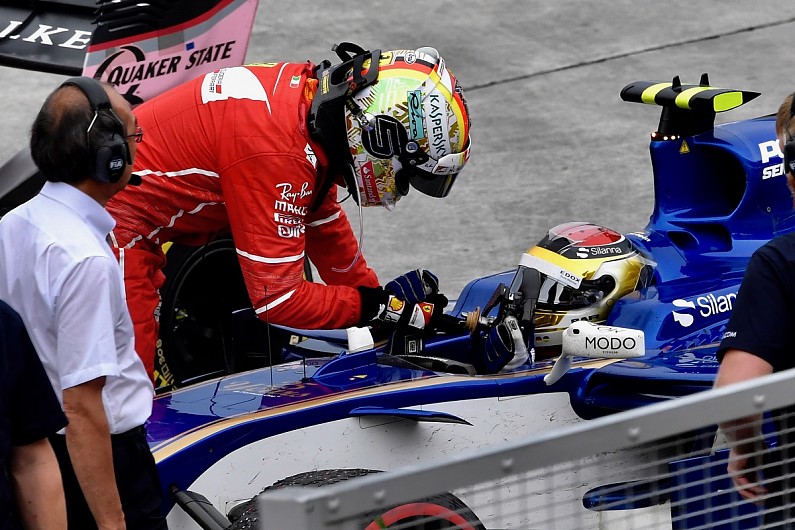 Before climbing onto the side of the car, Vettel removed his steering wheel and took it with him.
That contravened article 22.5 of the sporting regulations, which says: "A driver who abandons a car must leave it in neutral or with the clutch disengaged, with the ERS shut down and with the steering wheel in place."
No action has been taken against Vettel over the matter.
When asked by Autosport why he took the wheel with him, Vettel replied: "It was a sort of reflex.
"I saw Pascal was stopped and I couldn't get the steering wheel back on because the steering column was completely turned.
"Obviously the car was damaged. I put it in the seat, and it was reflex - sometimes they open the track to spectators, so I thought that's the only loose bit.
"Because I couldn't put it on I thought I might as well take it with me just to make sure.
"You don't want to lose a steering wheel. Was it necessary? Probably not."
Vettel chose to ditch the Ferrari start system he has exclusively used since the Spanish GP and revert to the old version for the Malaysian GP weekend.
But the four-time world champion said there was not much of a difference between the single clutch paddle he has gone back to and the dual finger-hole arrangement he has recently used.
"Obviously we started the season like that [with the single clutch paddle]," he said. "In the end it doesn't make a big difference.
"Generally our starts are OK, not the best, so we're trying to work on them a little bit.
"In Malaysia, it was OK considering the conditions and harder tyres."
Autosport has produced a standalone special magazine to celebrate our 70th birthday. All current print subscribers will receive a copy for free. To order your copy of the 196-page Autosport 70th Anniversary issue, please go to: autosport.com/autosport70th