Romain Grosjean's incident with a drain cover in second practice for the Malaysian Grand Prix reminded Felipe Massa of his accident in Hungary in 2009.
Haas driver Grosjean crashed heavily near the end of the session after he hit a dislodged drain cover at Turn 12.
That impact caused his right rear tyre to explode and sent his car into the wall at high speed.
The Frenchman walked away uninjured but the session was stopped and not restarted as the FIA looked at the issue.
Massa's career nearly came to an end after a spring from another car pierced his crash helmet during qualifying for the 2009 Hungarian GP.
"I was the car behind again," Massa told Autosport.
"Fortunately this time, nothing flew over my car, and it was good also that Romain didn't have any issue with the accident - for sure his car is not, but he's OK.
"I think the FIA need to control everything in the right way, so we don't have these things anymore.
"I was just the car behind, the first thing I thought was I had already a spring on my head, so maybe a drain is a little bit too much."

Discuss the incident on the Autosport Forum
Grosjean called for action to make sure incidents like this do not happen again.
"I have just seen the footage and apparently a drain came out," he said.
"It was on the racing line and I had a big hit and impact on rear right, and I see the tyre is not there any more - I was spinning and heading to the wall, so not ideal.
"I think they need to sort things out, it is a shame - hopefully we find a good set-up for tomorrow and the drains stay in place.
"I am good, I am fine. That is the most important thing.
"We need to prepare the car and I am sure the circuit is going to sort things out."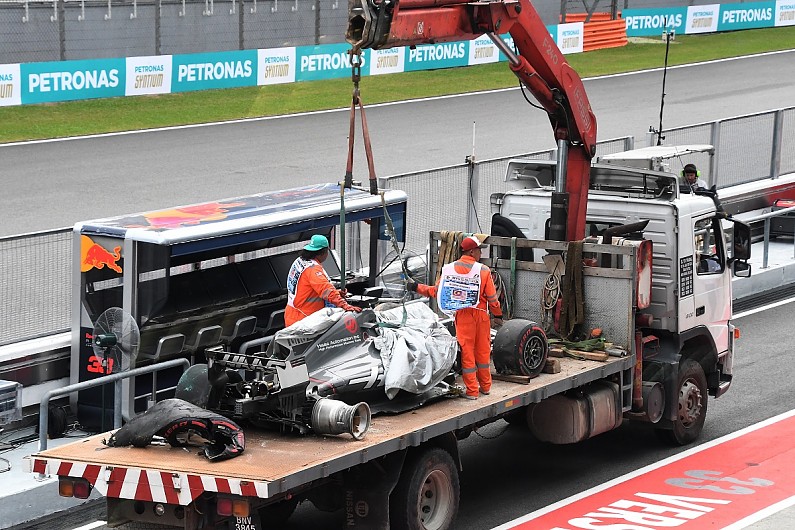 Haas team boss Gunther Steiner called it "unaccaptable" and "not up to the standards".
"These things should not happen on a permanent circuit - and should not happen on any circuit," he said.
"I haven't spoken with anybody but the next thing we need to be sure is how we can prove that it doesn't happen in the race because in the race it would have been a bigger disaster, if a car had gone over it and the cover comes up.
"The damage is quite big for the car."