Williams's Paddy Lowe says he has sympathy for his former Formula 1 team Mercedes are it struggled for performance in Singapore Grand Prix qualifying.
Lewis Hamilton finished the session fifth, one place ahead of team-mate Valtteri Bottas, as Mercedes was outpaced by Ferrari and Red Bull at Marina Bay.
Williams technical chief Lowe was executive director at Mercedes when it struggled in Singapore in 2015 and says he understands the challenge it is facing.
"I've felt some sympathy because I remember how terrible it was in 2015 (pictured below) and the pressure that brought to bear," he said.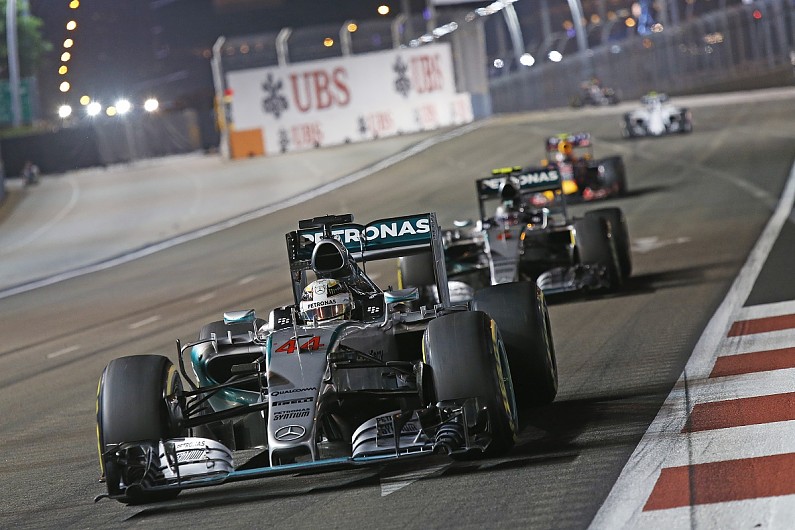 "It's not a pleasant feeling when you are in a team that's expected to win everywhere and then you're not.
"There's generally not a lot of sympathy going round for how tough it actually is to turn up and win every grand prix."
Lowe did not want to comment on the reasons for Mercedes' struggles but said: "People have come up with all these theories of why this car does that or that. If it was that easy then we'd all solve it in a flash.
"So I'm sure the reason why they have struggled this weekend, they probably don't understand at the moment otherwise they would be fixing it."
Mercedes motorsport boss Toto Wolff, who ahead of the weekend said the Marina Bay track would suit rivals Ferrari and Red Bull, described the team's performance in Singapore as its "yearly wake up call".
He added: "I actually think - and this might sound overly optimistic, and I am not - that what we have seen is the pace of the car around Singapore.
"We had years like in 2015 where we were 1.5 seconds off the leaders in a year where we have dominated.
"So we just need to continue to assess what is making our car perform less good in comparison to our enemies in Singapore."