McLaren is edging closer to a divorce from Honda, ahead of a crunch weekend of talks that will shape the engine market as well as Fernando Alonso's Formula 1 future.
It is understood McLaren has finally lost patience with Honda's ability to progress in the short term, and detailed analysis of gains Honda made with help from consultant Ilmor has not eased the concerns.
With time running out to finalise 2018 engine plans and amid pressure to ensure Alonso commits to a fresh deal, McLaren's focus is now on doing what is necessary to switch from Honda to Renault power.

AUTOSPORT PODCAST: What now for Alonso?

There remain several hurdles to overcome involving many parties before that switch can happen.
One source suggested it is not a case of whether McLaren splits with Honda, but of how messy the process gets.
The simplest way for McLaren to achieve its aim is to convince Honda to tie up with Toro Rosso for 2018 and beyond.
That would free up Toro Rosso's Renault engine supply for McLaren.
Toro Rosso would get a financial boost from Honda, which would be able to stay in F1.
Talks between Toro Rosso and Honda appeared to have collapsed recently but are back on and now at an advanced stage.
At Spa last weekend Toro Rosso and Honda's denial that there had been any "official talks" was intriguingly dispelled by McLaren, which revealed it had been asked to supply gearboxes for any potential deal.
But sources suggest Honda is not especially eager to make the jump to Toro Rosso and does not want to give up on McLaren.
That means there is a stand-off between McLaren and Honda, with neither party able to move forward at present.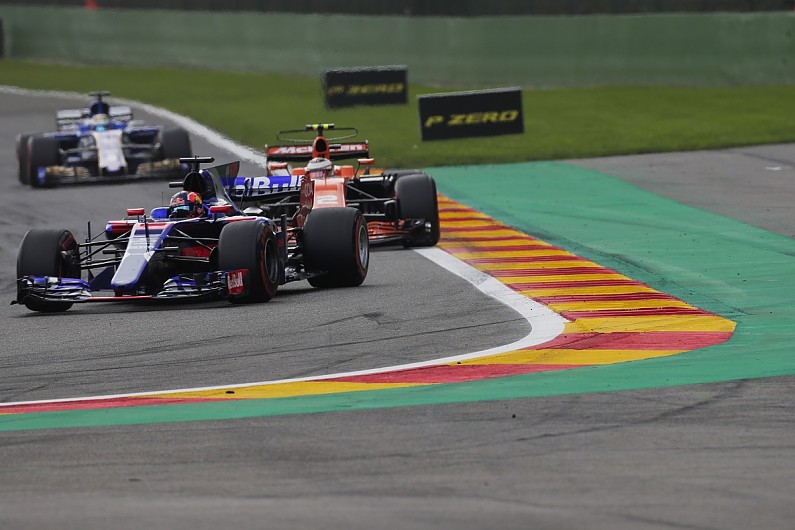 With time pressure mounting, it is understood Toro Rosso has laid down a deadline of Monza this weekend for a 2018 engine decision.
With McLaren believed to be adamant it will not carry on with Honda in 2018, if it cannot transfer its engine supply to Toro Rosso smoothly there is a risk it will have break its current engine contract and face legal complications.
Losing McLaren without an alternative team in place would force Honda out of F1 too, something Liberty Media is not keen on.
Honda's departure would open up a scenario where FIA rules dictate that one of the current engine manufacturers must supply McLaren for 2018.
Renault remains the most likely option in this scenario, and though it is reluctant to expand to a fourth supply the rules could leave it with no choice.
Switching engine supplier is believed to be key to McLaren keeping Alonso.
It is understood he has indicated in private that if McLaren is able to secure Renaults then he will remain on board.
Progress made with the chassis and the new era at the team after Ron Dennis have left Alonso encouraged about McLaren's future.
The Honda engine is the only stumbling block, with Alonso's desire for a Renault switch adding further impetus to McLaren's current mission.