Jolyon Palmer believes Fernando Alonso's driving during Formula 1's Belgian Grand Prix was "identical" to Kevin Magnussen's controversial move on team-mate Nico Hulkenberg in Hungary and deserved a penalty.
Alonso and Palmer went side-by-side into Rivage for 12th midway through the race, with the McLaren taking the inside line.
Palmer stayed on the outside line but quickly ran out of track as Alonso held him out wide.
This allowed Alonso, and the Toro Rosso of Carlos Sainz Jr, to pass.
The incident was reported to stewards by Renault immediately after Palmer said on team radio: "come on, Alonso just forced me straight off the track".
Magnussen was given a time penalty for pushing Hulkenberg wide in their Hungarian GP battle that prompted the "suck my balls" post-race row.
Palmer believes on that precedent Alonso should have been penalised in Hungary.
"We got stuck behind Alonso, who forced me off the track pretty clearly," Palmer told Autosport.
"If you ask me there's nothing between that and what Kevin did to Hulk. It was identical.
"I don't know if he'll get a penalty. We'll see. But that cost me two places.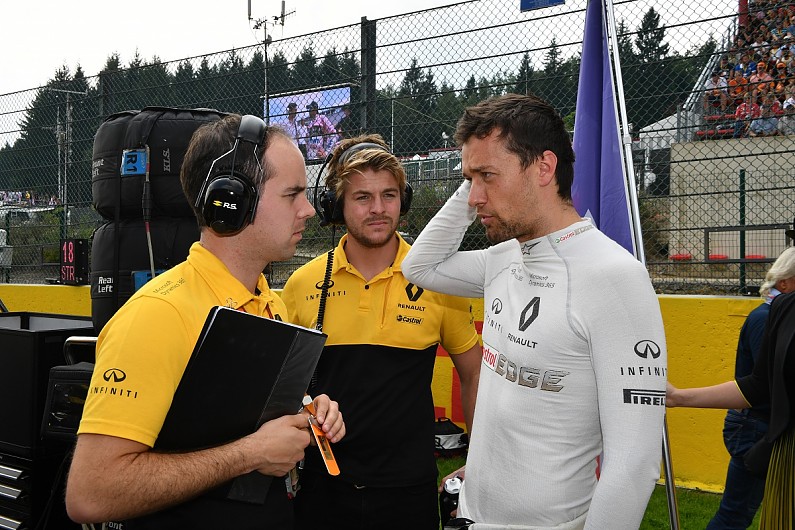 "If halfway round the corner he just decides he's going to force me off the track, it's exactly the same [as Magnussen/Hulkenberg]. It's up to the stewards to decide.
"But if Magnussen gets a penalty for sure Alonso has to get a penalty as well."
Any penalty for Alonso would have to be retrospective, as the two-time world champion retired from the race with a suspected engine problem.
Palmer had shown his strongest form of a difficult season so far in Spa practice, outpacing team-mate Hulkenberg, but then suffered a gearbox failure just after reaching Q3.
A gearbox change penalty dropped him from 10th to 14th on the grid and he could only finish 13th.