Force India admits it may need to change its rules of engagement between Formula 1 drivers Sergio Perez and Esteban Ocon, following its Canadian Grand Prix team orders controversy.
Perez and Ocon were chasing third-placed Daniel Ricciardo in the closing stages, amid radio talk about the pair trading places, with Ocon believing he was quicker and had a better chance of getting past the Red Bull.
The team did not go as far as ordering Perez to slow and let Ocon - on fresher tyres - through, and the pair were not only unable to pass Ricciardo but also overhauled by Ferrari's Sebastian Vettel inside the final five laps.
Deputy team principal Bob Fernley concedes Force India could learn from the situation, and that it may need to revise its approach for similar circumstances.
"There are positives and negatives with with happened," he told Autosport.
"And what it has done is highlight an issue we have - which is quite a compliment - that we have two incredibly quick drivers.
"So we maybe have to review our positions on how we do things in the future.
"It is a nice problem to have, and we should not let it take away from us what was still a fantastic result for the team."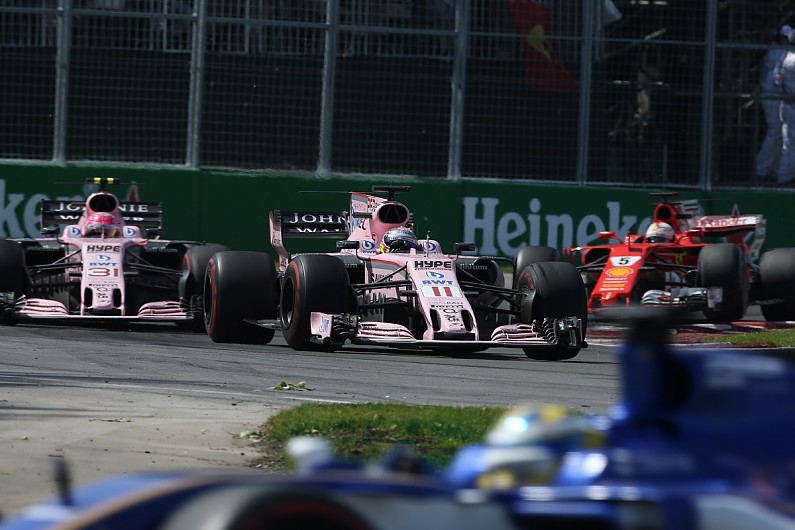 Asked if he was not frustrated that the team had lost its best podium chance of 2017 so far, insead finishing fifth and sixth, Fernley said: "I am not really frustrated.
"I think we have just got to look at it.
"If we have to change the policy of how we work, that is a separate decision.
"We have always allowed the drivers to race. We should not have recriminations on that at the end of the day.
"From a fan point of view, you cannot have it both ways.
"You cannot complain when people make switches [between drivers] and say they want them to race, and when they race say you want it the other way around.
"So, our policy has been let them race and that is what we did."
Team principal Vijay Mallya tweeted "our policy of no team orders continues but I will specify guidelines to achieve best team result".
Fernley added Force India team would go through footage of the closing stages of its drivers' battle, in which Ocon felt Perez had been too tough with his defence.
"We will get the video and play it back to both of them and see what it is like," said Fernley.
"What we have are two drivers who are absolutely at the top of their game, and it is something we are now going to have to look at, about how we control that, to keep us on our toes."