Williams Formula 1 driver Felipe Massa insists he did not block Sebastian Vettel while being lapped at the end of the Russian Grand Prix.
On the final lap of the race, leader Bottas passed Massa's ninth-placed Williams into Turn 2, with Vettel stuck behind the Brazilian through the long Turn 3 left-hander.
Vettel then hesitated while attempting to lap Massa into the slow Turn 4 left-hander, asking "what was that," over the radio after the incident.
The time lost meant Bottas eked out an advantage, crossing the line 0.617s clear of Vettel to take his first F1 victory.
"I left completely the inside part for him, I back off before in Turn 4 and he didn't want to go," said Massa when asked about what happened.
"He was afraid to dive inside, I was completely on the left, then I let him by straight away after.
"I am also sure he was not going to pass Valtteri on the last lap of the race.
"Anyway, he really likes to complain."
When asked about what happened on the podium, Vettel downplayed what happened.
He suggested Massa should have backed off through Turn 3.
"He could have lifted in Turn 3 and let me drive around the outside," said Vettel.
"Obviously Felipe did him a favour twice: once handing him a tow, and then he cost me a bit of time.
"But that's how it is with backmarkers.
"Initially I was a bit angry but I think Valtteri was so much in control that he had it anyways, even if I could have use the DRS on the back straight."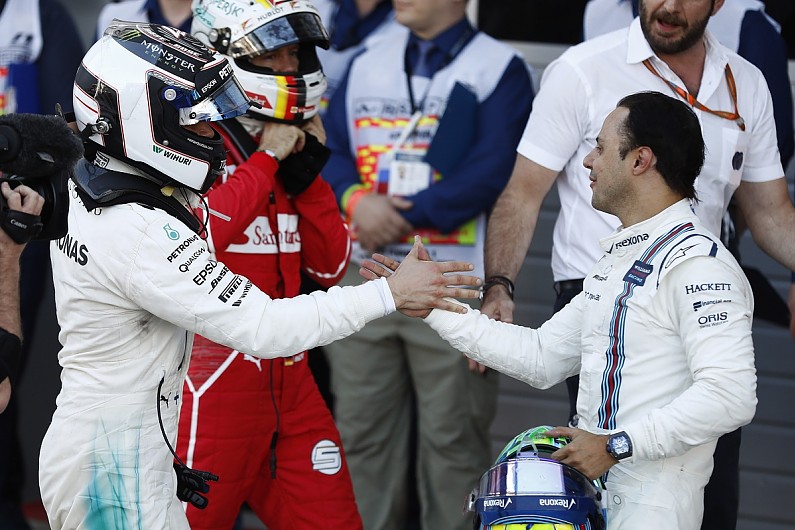 Massa was delighted to see Bottas, who was his team-mate at Williams from 2014-2016, take a first grand prix victory.
He believes this vindicates the decision Mercedes made to sign the Finn, and that Bottas will become a "different driver" thanks to this success.
"He deserves the position he has today," said Massa.
"Many people were not talking about him at the right level, in terms of drivers. I said straight away when he signed with Mercedes that he will do a good job.
"And he's doing [a good job]. The fourth race [with Mercedes] he has this victory, now he's a different driver because he's achieved a victory.
"He'll achieve a lot more than what he had today."