Honda has identified a recurring MGU-H problem as the reason Fernando Alonso's engine failed in qualifying for the Bahrain Grand Prix.
Alonso escaped Q1 and felt 13th or 14th on the grid was possible, but he ended up 15th after failing to complete a lap in Q2 because of the engine problem, and will require a new engine for the race.
Autosport understands the MGU-H failure sent debris into the internal combustion engine and also damaged that beyond repair.
Alonso's failure follows two terminal MGU-H problems for team-mate Stoffel Vandoorne that occurred in Friday practice.
A new unit failed in the first session, and a replacement unit that was run in March's Australian Grand Prix broke in FP2.
Honda motorsport chief Yusuke Hasegawa said the Japanese manufacturer has yet to fully understand the reasons, or why these failures have occurred suddenly in Bahrain.
"We are not sure the exact cause, but definitely a mechanical failure of the MGU-H," said Hasegawa.
"It is something around the bearings, it was sticking.
"They are all dead so we have to replace.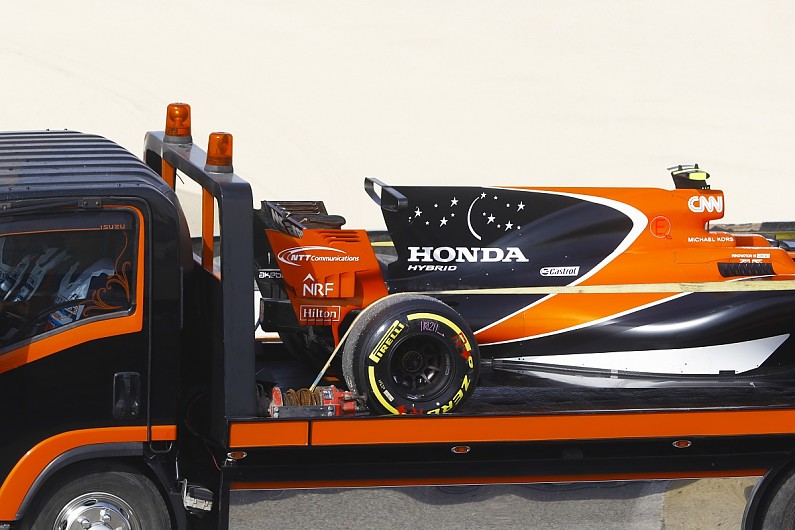 "We're not sure why it happened just here three times, but we are suspecting something happened in this environment.
"Possibly because the temperatures are very high."
Hasegawa expressed confidence the McLaren-Hondas will finish Sunday's race, given Alonso will start with a new MGU-H and Vandoorne's unit is still at low mileage.
However, there are concerns within McLaren that the MGU-H problem will recur in the race.
When asked to comment on the performance of the Honda engine, Alonso said the lack of reliability made this a pointless exercise.
"There is no point for us talking driveability," said Alonso, who later engaged in a serious private discussion with Hasegawa in the McLaren team offices.
"We cannot complete a lap or do qualifying.
"I don't care too much about the driveability if I cannot finish a race so far this year, or if I cannot finish qualifying now."