Renault's 2017 Formula 1 power unit is 95% different to last year's, after it reached the end of the development curve for its previous concept, says engine chief Remi Taffin.
The French manufacturer made a significant step forward with its F1 engine last year, with chief technical officer Bob Bell saying it was "there or thereabouts" with Ferrari in terms of performance by the end of the season.
Renault has chosen to introduce a new concept for 2017, which includes an all-new architecture on the internal combustion engine, as well as a second-generation Energy Recovery System.
"The engine is 95% different," said Taffin at the launch of Renault's 2017 challenger - the RS17 - in London on Tuesday.
"We put a lot of effort to gain on the weight on every single part, as we knew we need to make an effort on that."
Taffin admitted it was a risk to make such a dramatic change, but Renault ultimately had no option given it had reached the limit of its previous concept.
"This engine is more based on what we'll be doing for the next three years," he said.
"It's definitely risky to change anything in the power unit, because when you change something here it could have a knock on effect on everything so you have to be careful."
Taffin said Renault knew it needed to find even more performance to challenge the other manufacturer teams, and decided "15 months ago" that its engine concept would need to change to achieve that aim.
"From what we saw last year we got to the limit of the concept we had," he added. "[So] then we move on."
CLOSING DOWN MERCEDES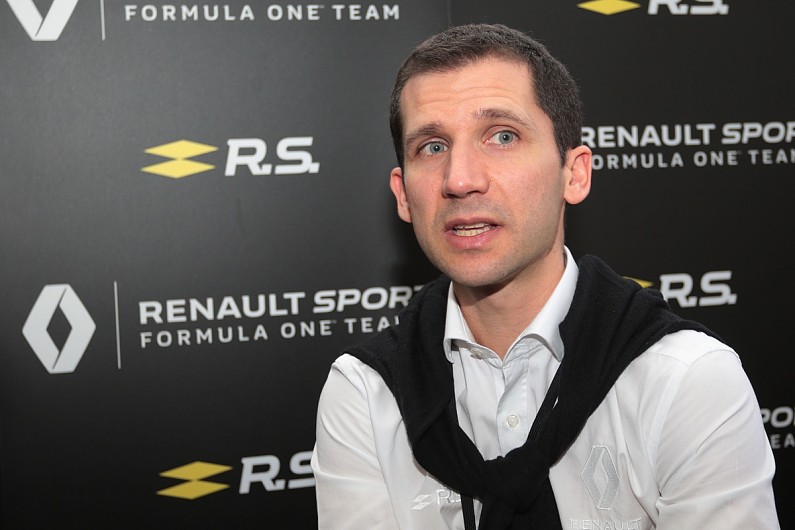 Renault Sport managing director Cyril Abiteboul said Renault had unlocked 0.3 seconds per lap of extra performance with its new engine, and hopes to make a similar further gain through in-season development.
In terms of closing the gap to Mercedes, Taffin said he was hopeful that could be achieved by the end of the year.
"Last year, I said we were trying to half the gap and try to get the second half this season," he said.
"We have some good opportunities to do that.
"We will try to close the gap by the end of the season, that's the plan but you never know what the other guys are doing."
F1's token system was abolished ahead of this season, as part of a push for power convergence by governing body the FIA.
Taffin said this move has given engineers "more freedom", but the French manufacturer would still have likely been able to make its 2017 changes under that system.
"I guess [we could have introduced the concept under the token system] because the only thing you do differently is you do not count the tokens," he said.
"When we had the token system, you think 'if I change this, then I can change this, and this as well, and then I can move onto the next package'.
"This time, you do not even think about that, so it's just freeing up your mind."