Williams deputy team principal Claire Williams says she cannot understand the criticism surrounding Formula 1 drivers who bring financial support to the teams they race for.
European Formula 3 champion Lance Stroll will graduate to F1 with Williams this season, following a rapid rise through the single-seater ranks funded by his retail billionaire father Lawrence.

Why Williams has backed the right horse
Stroll's financial support helped bankroll the Prema F3 team that powered him to the championship last season, during which Stroll underwent a development driver programme with Williams that mirrored the work it conducted with 1997 world champion Jacques Villeneuve before he joined F1.
F1 has often been criticised in recent times for promoting drivers with significant financial support over those with greater ability but less monetary might.
Williams said the loss of manufacturer backing and sponsors for many teams since the global financial crash of 2008 had changed the commercial model in F1, and argued the "negative connotation" around drivers bringing budgets to teams is unfair.
"With every driver in Formula 1 there are commercial considerations for any TP [team principal]," Williams said.
"[Fernando] Alonso comes with financial backing - maybe not personal but he attracts sponsors, Santander is there because of him; Jenson [Button] exactly the same thing; Sergio Perez.
"I don't understand why in this sport that is such big business, and where teams rely on having budgets in excess of a million sterling if they're to succeed, why there is such a negative connotation around having a driver that brings backing.
"And not only in Formula 1. Motorsport as a whole is such an expensive business - you don't get into the upper echelons unless you can find significant budgets to go racing.
"I don't know why people criticise drivers when they have financial backing, because if they didn't many teams in this sport wouldn't necessarily survive, and then the sport wouldn't survive.
"The commercial model in Formula 1 has changed.
"It's a much more expensive sport than it's ever been, so sometimes those situations are going to arise."
GIVE STROLL TIME TO PROVE HIS WORTH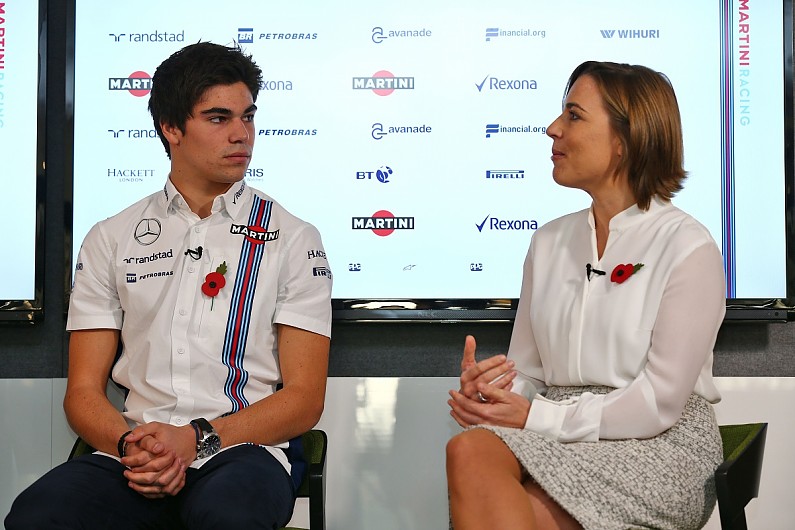 Williams reckons those who consider it a risk for the team to be taking Stroll straight out of Formula 3 into F1 should "reserve judgement" on whether the 18-year-old has what it takes to succeed at the highest level of single-seater racing.
"Would you say the same about Max Verstappen and putting him in a Red Bull?" Williams countered when asked about Stroll's promotion.
"When it comes to Lance, I think out of courtesy we should reserve judgement.
"Considering his age he has achieved a huge amount - he's won every championship he's taken part in.
"Yes he's going to be a rookie, and yes he will make mistakes, but from everything we've seen he's a really fast learner.
"We should give the guy the chance to prove the talent, and prove he deserves the seat.
"We're a serious team and have serious ambitions - I wouldn't put him in the car if I didn't believe he could deliver."