Nico Rosberg claimed a comfortable pole position for the Singapore Grand Prix, while his Mercedes team-mate and Formula 1 title rival Lewis Hamilton could only qualify third.
Hopes of a tight, multi-team battle for pole position were obliterated in Q2, as Red Bull and Ferrari - down to one car already after early problems for Sebastian Vettel - struggled to get within a second of Rosberg's benchmark.
Rosberg was the only driver to make it below 1m43s around the Marina Bay F1 circuit in Q3, and his first run proved enough to get the job done as he lapped in 1m42.584s to claim top spot by over half a second.
Hamilton lost track time to a hydraulic valve problem on Friday and has struggled under braking all weekend so far, and he endured a difficult time again in qualifying.
He trailed Rosberg by more than seven tenths of a second after his first run in Q3 and failed to improve on his second run.
That allowed Daniel Ricciardo to steal a front row start for Red Bull, as he leapt to second with a superb 1m43.115s effort at the end.
His team-mate Max Verstappen was fourth fastest, just 0.040s down on Hamilton.
Kimi Raikkonen qualified his Ferrari fifth fastest, over six tenths down on Verstappen, while team-mate Sebastian Vettel dropped out in Q1 after his Ferrari appeared to suffer a suspension failure.
Vettel initially tried to press on and drag a time out of the car anyway, before pitting for repairs Ferrari had no time to complete.
Carlos Sainz Jr claimed a superb sixth for Toro Rosso, ahead of team-mate Daniil Kvyat (who only made one run in Q3) and Force India's Nico Hulkenberg.
Fernando Alonso qualified his McLaren-Honda ninth fastest, fractionally ahead of the second Force India of Sergio Perez.
Perez may yet face sanction for overtaking Esteban Gutierrez under yellow flags in Q2.
Williams drivers Valtteri Bottas and Felipe Massa were 11th and 12th, Bottas missing the Q3 cut by just 0.003s, and both affected badly by yellow flags after Romain Grosjean crashed his Haas at the Turn 10 left-hander and Jenson Button went off.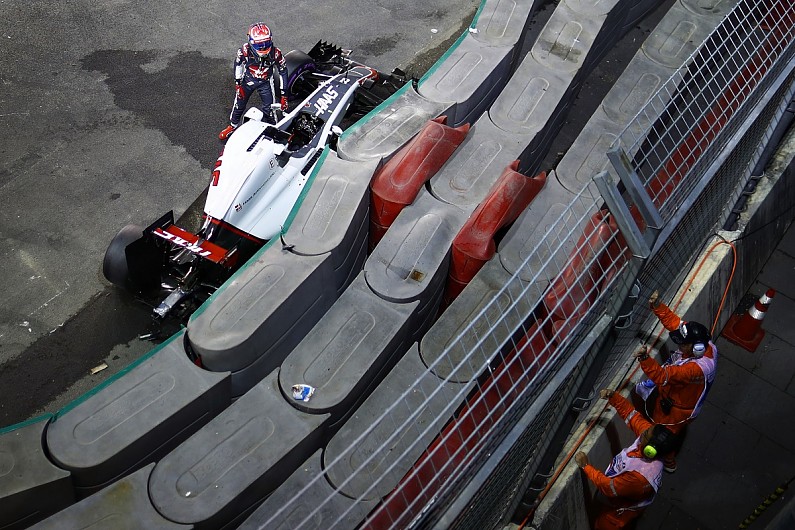 Button damaged his McLaren-Honda's left-rear wheel against the wall at Turn 14 on his final flying lap, so failed to improve and ended up 13th fastest.
Esteban Gutierrez was 14th, just ahead of Haas team-mate Grosjean, whose crash also hindered Hulkenberg and Gutierrez at the end of Q2.
Marcus Ericsson's Sauber rounded out the top 16, electing to save tyres knowing he could do no better after Vettel's misfortune allowed him passage to Q2.
Ericsson made it through to Q2 with what he described as a "nice lap" at the end of Q1.
That put him almost four tenths clear of the Q1 dropouts, headed by Kevin Magnussen's Renault, Ericsson's Sauber team-mate Felipe Nasr, and the second Renault of Jolyon Palmer, these three all covered by just 0.135s.
Pascal Wehrlein was 20th fastest for Manor, over six tenths up on team-mate Esteban Ocon, while Vettel's broken Ferrari trailed the entire field, almost a second further back.
QUALIFYING RESULTS
| Pos | Driver | Car | Time | Gap |
| --- | --- | --- | --- | --- |
| 1 | Nico Rosberg | Mercedes | 1m42.584s | - |
| 2 | Daniel Ricciardo | Red Bull/Renault | 1m43.115s | 0.531s |
| 3 | Lewis Hamilton | Mercedes | 1m43.288s | 0.704s |
| 4 | Max Verstappen | Red Bull/Renault | 1m43.328s | 0.744s |
| 5 | Kimi Raikkonen | Ferrari | 1m43.540s | 0.956s |
| 6 | Carlos Sainz Jr. | Toro Rosso/Ferrari | 1m44.197s | 1.613s |
| 7 | Daniil Kvyat | Toro Rosso/Ferrari | 1m44.469s | 1.885s |
| 8 | Nico Hulkenberg | Force India/Mercedes | 1m44.479s | 1.895s |
| 9 | Fernando Alonso | McLaren/Honda | 1m44.553s | 1.969s |
| 10 | Valtteri Bottas | Williams/Mercedes | 1m44.740s | - |
| 11 | Felipe Massa | Williams/Mercedes | 1m44.991s | - |
| 12 | Jenson Button | McLaren/Honda | 1m45.144s | - |
| 13 | Esteban Gutierrez | Haas/Ferrari | 1m45.593s | - |
| 14 | Marcus Ericsson | Sauber/Ferrari | 1m47.827s | - |
| 15 | Kevin Magnussen | Renault | 1m46.825s | - |
| 16 | Felipe Nasr | Sauber/Ferrari | 1m46.860s | - |
| 17 | Sergio Perez | Force India/Mercedes | 1m44.582s | - |
| 18 | Jolyon Palmer | Renault | 1m46.960s | - |
| 19 | Pascal Wehrlein | Manor/Mercedes | 1m47.667s | - |
| 20 | Romain Grosjean | Haas/Ferrari | 1m45.723s | - |
| 21 | Esteban Ocon | Manor/Mercedes | 1m48.296s | - |
| 22 | Sebastian Vettel | Ferrari | 1m49.116s | - |