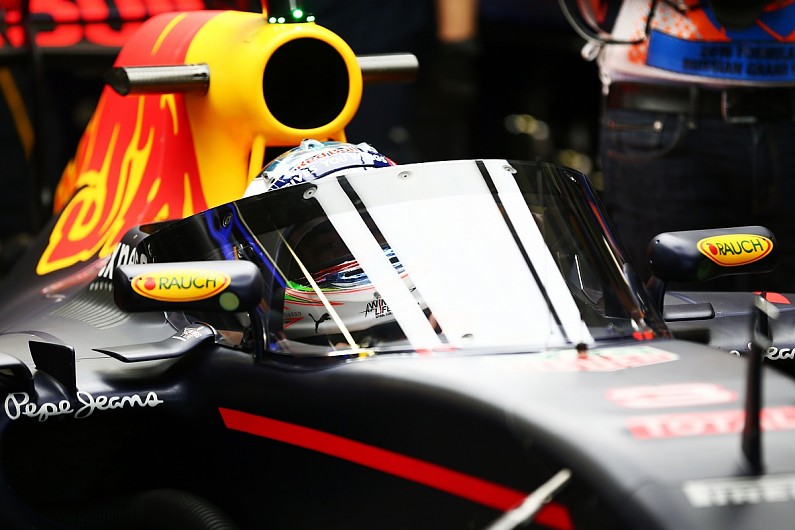 The FIA's decision to introduce the halo as its preferred Formula 1 cockpit protection device for 2017 came after the aeroscreen failed to pass recent tests, Autosport has learned.
The halo was given the green light for introduction next year following the latest meeting of the technical regulations working group last month, with the time constraints affecting development of Red Bull's alternative aeroscreen concept cited as a factor.
But one day prior to the meeting, the FIA had conducted its own tests on the aeroscreen.
Though Red Bull had released a video of its own static test in which a wheel was propelled at the aeroscreen, the FIA's evaluation was considered unsuccessful.
According to a source "the most recent tests on the aeroscreen didn't go as well as expected", and showed "further development is needed".
One of the issues that has come to light concerns the free air volume around a driver's helmet in relation to the rim of the aeroscreen.
It was discovered should a car fitted with an aeroscreen be involved in any kind of impact or accident, the helmet would collide with the rim, with the g-forces involved significantly higher.
It is also believed the overall robustness of the device at this stage was another cause for concern.
The halo is regarded as having no such issues, with the source adding it makes it "the only solution that could realistically be introduced in 2017".
The aeroscreen is by no means being abandoned, and is certainly not being ruled out for 2018 given the protection it affords compared to the halo.
The space between the halo's loop and the cockpit is still an Achilles heel of the device should a smaller object than a wheel be projected at a car and find its way between.
For now, the FIA is willing to pursue the halo for next year as it at least affords the driver some form of protection.
The definitive halo will be more refined than the 'rough draft' seen on the cockpit of the Ferrari in pre-season testing and made from titanium.
It will be made by a third party following a tender process to ensure uniformity across the grid.
Some within the paddock still feel the device is being rushed through and that a delay until 2018 should be implemented to ensure the most ideal solution is found.
There is the possibility in that time Red Bull may come up against a rival version of the aeroscreen concept as Autosport has discovered IndyCar is in the early stages of looking at something similar.
From Red Bull's perspective, the necessary further development of the aeroscreen is a question of cost as it has already invested considerable resource on it at a time when it is also focusing on the considerable regulation changes for 2017.