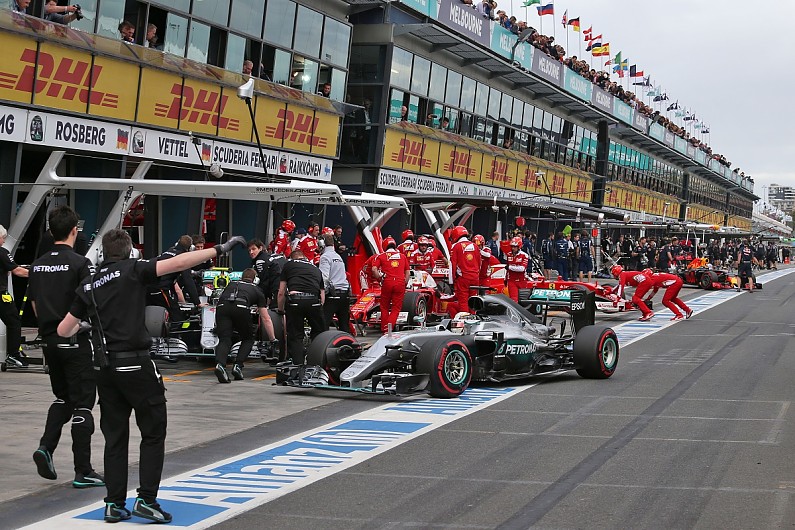 The Formula 1 paddock gives its largely scathing verdict on elimination qualifying's debut at the Australian Grand Prix
TOTO WOLFF - "It's pretty embarrassing"
"Nobody tried to really damage the spectacle of qualifying on purpose.
"The basic idea of having a shootout and making it very exciting with a driver dropping out every 90 seconds could trigger variability and a favourite gets it wrong. So the basic concept was not completely stupid.
"As with many things the devil lies in the detail and we saw today it complicated things at a time when we should simplify them, and there were periods when there were no cars running. At the end it wasn't exciting.
"The obvious choice is to return to what we had before. It's in the regulations. If we were to come up with a different format we need to think carefully what that would be.
"We shouldn't close our eyes to trying to make the spectacle better, that is important, but it should be a thought-through process.
"It's pretty embarrassing. We're a global sport with millions of spectators and we've changed the rules in an erratic way, and we shouldn't have done.
"I think stability is important at this moment and keeping it simple."
DANIEL RICCIARDO - "It didn't really make sense"
"From my point of view, Q1 and Q2 seemed OK. Still exciting enough, I think from a fan's point of view.
"But Q3 was certainly an anti-climax. It didn't really make sense that the clock's still running and everyone's done. I would probably run Q3 like last year.
"In Q1 and Q2 I did feel like there was a bit more pressure on. It seemed for everyone it was more intense. So I thought that was fine."
CARLOS SAINZ JR - "The drivers were not looking forward to it"
"From the inside it was stressful because we had a problem in Q1, and it meant we had to use used tyres in the beginning of Q2. Then I was P12 and I had to do a last all lap to qualify to Q3. It was stressful.
"But it's not me who has to like it, it's the fans. It's time to ask them if they liked it or not. If they like it, we will end up liking it and if they don't like it we will support them.
"I remember last season the last three minutes of Q3 were amazing. Here it was completely the opposite.
"So we need to ask everyone, especially the fans, because the change was done for them. If you ask the drivers or the teams, they were not looking forward to it."
MAX VERSTAPPEN - "More exciting for us"
"It was definitely more pressure and for us more exciting as well because you only had one lap, you couldn't make a mistake because then you were out.
"That's why we were asking other people 'how do you think qualifying was?' because for us it was quite intense.
"I had a great qualifying so I enjoyed how the qualifying was. But always when you have a great result on a track you love the track..."
JENSON BUTTON - "I was watching numbers rather than cars"
"I came in after qualifying and said in my TV interviews that it wasn't any different at all. And in reality it really wasn't for us, the only thing is in quali two we probably would've run at the end instead of the beginning with new tyres.
"Then I watched Q3 from outside the car. I think I was watching qualifying but I was too busy watching numbers rather than watching cars go round...
"If we're finding it confusing and we've known about it for a little while and gone through everything to make sure we don't make mistakes, for the fans it's way too confusing right now.
"I got out of the car with four or five minutes to go still in Q2. Normally if you had one set of new tyres you'd have waited to the end of Q2 and it's exciting because cars are crossing the finish line and you're into Q3 and suddenly someone comes along and beats you. I think that was exciting.
"Now you're getting the same results but there's not that climax. I think the first 10 minutes in Q1 is crazy and great fun, but you're taking away from Q2 and Q3 a little bit too much and that's the problem."
NIKI LAUDA - "Like digging in the toilet"
"This is the biggest nonsense I have ever seen. I was not even sure if I should congratulate Toto and our drivers on our front row.
"To introduce this was totally wrong. It was like digging in the toilet."
FERNANDO ALONSO - "They do what they want"
"We need it to give a little bit more time. I think it favours the top teams a little bit because they don't need to use so many sets [of tyres] in Q1 so for us I don't think that is the right change. But it's up to us to become a top team and become competitive and not use many sets in Q1 as the others are doing.
"The fans probably didn't like it too much to see the chequered flag with no cars on track. We spoke [out about it] and there were meetings in Barcelona with the FIA etc but they do what they want."
BERNIE ECCLESTONE - "Pretty crap"
"I have to say I wasn't enthusiastic about it from day one. It was pretty crap."
LEWIS HAMILTON - "We said it wasn't the right way"
"We said at the beginning that it wasn't the right way but it's like you can't knock it before you try it. We tried it and all the engineers were right.
"Ultimately it is a good step that we're actually trying something new but it's trial and error. Maybe not just go back to the old way."
SEBASTIAN VETTEL - "There are no cars to watch"
"I don't see why everybody's surprised now. We all said what's going to happen, it happened.
"Obviously we were told to wait and see but now we saw and I don't think it was very exciting.
"It was a bit crazy in the beginning with all the cars pushing and trying to do a lap before they get potentially kicked out so managing traffic... it's quite busy but for no reason because the time is there in the session to do it.
"For the people in the grandstands, I don't feel it's the right way to go. There are no cars to watch.
"They want to see Lewis, Nico, Kimi, whoever, pushing it to the limit at the end of the session when the track's supposed to be at its best etc."
CHRISTIAN HORNER - "We should apologise to the fans"
"This new qualifying system did not work and really we should apologise to the fans. We have not put on a show for them at all today which is a shame, especially for the first race of the season.
"It's not good for qualifying to be done with five minutes to go, drivers and cars need to be out on track fighting for pole up until the last second.
"We should accept that we tried it, it didn't work and the important thing is we learn from it and address it quickly.
"Qualifying needs to build up to a crescendo, not what we saw here today."
NICO ROSBERG - "It's the wrong way"
"It's good that F1 tries but it's the wrong way so we should go back to the other system for the fans."
FELIPE MASSA - "Q3 was terrible"
"If you tell me Q1 and Q2 was fantastic for the fans, they like the traffic, the cars together all the time, a little bit rushed time for everyone, If people are happy, it's fine...
"Q3 was terrible, really empty, no cars on the track. I'm not in favour."
JOLYON PALMER - "I seem to be in the minority"
"I enjoyed it, but I seem to be in the minority.
"It's fun because you need to keep your head above water. You've got enough time to come in and out - we used three sets of tyres - and all the time you've got to improve because the track's improving and your rivals are improving as well. I enjoyed the challenge of digging deeper and deeper and finding more and more.
"What I enjoyed in Q1 was it was building up, and I was the one on the bubble who had the chance to improve at the end. What I enjoyed was getting faster and faster and faster.
"I can't really comment on qualifying as a whole, but from my point of view I was trying to get better and beat the drop. That didn't happen in Q3 and that's disappointing for the fans."
PAT SYMONDS - "Q1 and Q2 is quite good"
"It's exactly as we said it would be. It wasn't done to improve qualifying, it was done to improve the racing.
"The unfortunate thing for us is there is only one car other than Kvyat who is out of position and it's one of ours but that's the way it goes.
"I don't have strong opinions about it. I wouldn't be surprised if we see a change.
"The new process for Q1 and Q2 is quite good. It will from time to time get people out of position and things and that's a good part of it but I do think Q3 should have a climax and the climax was missing.
"Having got down to eight cars, there's no reason why Q3 can't be the same as it was last year."
KIMI RAIKKONEN - "It's a rule"
"It's not my job to judge is it good or not. It's a rule and this is how they want it."
GARY ANDERSON'S VERDICT
Autosport technical consultant
The biggest surprise for me was that the teams didn't appear to know how the new elimination system works.
The first part is easy: after x minutes the slowest car is eliminated.. This doesn't matter if the car is in the garage or on the track doing a lap that would be faster, the slowest is out.
After that it gets a little more confusing. At 90-second intervals the slowest car will be eliminated. Again this doesn't matter whether they are in the garage or on a faster lap, the slowest is eliminated.
The driver can only do the fastest lap they can so it is up to the team to make sure they are on the track when they need to be.
To put up the best battle to give you a chance to stay in the first two qualifying sessions, the team needs to send there driver out with enough time to do a warm-up lap which is normally about 10 seconds slower than their fast lap.
So in Australia you needed roughly 100 seconds for that warm-up lap and 90 seconds for your fast lap.
That means you need to leave the pits with 3m10s to go, minimum, or in excess of two of the 1m30s elimination places.
All that said, the first part of Q3 is pretty good - but then it fizzled out.
And Ferrari is still 0.8s behind Mercedes, which doesn't help.
Access even more news on Autosport.
Register for free to increase your monthly limit from 15 to 25 stories - or subscribe today and get unlimited access.
Get unlimited news
Full access to our news and in-depth Autosport Plus features - all in an ad-free enviroment.
Subscribe to Autosport Plus
Get 10 free extra stories
A quick upgrade and you'll boost your monthly news limit instantly - for free.
Register for free