Manor says a final decision on when it will introduce its definitive 2015 Formula 1 car will likely only be made after the opening flyaway races.
The team is currently preparing a heavily updated 2014 car for the start of the season, with the final crash tests due to take place this week.
The focus on getting a car that complies to the current regulations has delayed its plans to introduce its bespoke challenger, with the final schedule for when that comes on board undecided right now.
The team suspects that it will most likely be introduced in the middle of the year.

Manor worth saving, says new investor
Sporting director Graeme Lowdon has said that a decision on when to bring the 2015 car in will only be made next month, once the team knows its engine schedule and just how competitive its modified 2014 car is.
One factor that could force a fast-tracking of the new car will be if Manor is unable to get within 107 per cent of the fastest time from Q1, which would mean it fails to qualify.
Speaking to AUTOSPORT about the scheduling of the 2015 car, Lowdon said: "There is a window, and it is not as straightforward as it would seem.
"You would think you must do it as quickly as you possibly can, but then we have to take into account the number of engines for the year.
"So, if you change engines (the 2015 car will run a current engine) at a certain time, you are going to get penalties.
"Also bringing in the new car at certain times, you can optimise when you would do an aero step change for example.
"The window to bring it in is quite wide at the minute, as it has not been our real focus, and that will narrow.
"My guess is we will get back from the flyaways and that window [to introduce it] will start narrowing down.
"It depends also on what happens in the first few races, as that will have an impact.
"We just have to make a decision at the time. We have not got much time until Melbourne, but we have a fair amount of time after that to look at the optimum time to do bring the new car."
107 PER CENT A REALISTIC TARGET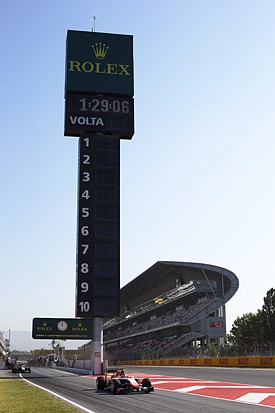 Lowdon said there is no answer yet as to if it was realistic to expect its updated 2014 car to easily qualify or not.
"We just don't know," he said. "The rule is there for a reason, we respect that and we know it is there.
"If it presents itself as a problem then that will be the first thing we need to engineer our way out of."
Rain in qualifying in Melbourne last year disguised the true pace gap between Manor and pace-setting Mercedes, but when conditions were good the difference was not that great.
At the 2014 Spanish Grand Prix for example, Nico Rosberg's fastest time in Q1 was 1m26.764 seconds - meaning the cut off to qualify was 1m32.837s.
Max Chilton was Marussia's fastest qualifier there and managed a 1m29.586s lap, comfortably within the limits.
Testing analysis of this year versus last year suggests that the new cars are somewhere between two to three seconds per lap quicker in 2015.
That means a Q1 lap could be as fast as 1m23.7s, meaning Manor would need its updated 2014 car to be capable of a 1m29.559s - very close to Chilton's time last year.