Jenson Button believes the new McLaren-Honda has the potential to be a race-winning car by the end of the year once the Formula 1 team gets on top of its problems.
The Woking-based team has been hit by a spate of reliability issues in pre-season testing and although its fortunes improved on Friday when Fernando Alonso managed almost 60 laps, its running was limited again on Saturday.
Button managed just 21 laps when the team suffered a failure of the new MGU-K seal design that was intended to resolve its problems earlier in the test.
But despite McLaren's on-going problems with the car, 2009 world champion Button remains optimistic, suggesting that the team's progress in terms of performance is being masked by more problems.
"We are not going to have a race-winning car at the first race, but we might have one at the last race," said Button, who ended Saturday 10th quickest and bottom of the timesheets.
"I think you will see big improvements from us. We have made massive steps since the first test, but you don't get to see it because we run into other problems we have to solve.
"We are all quite interested to see what this car can do at full power because I think it has a lot of potential. It's just difficult to extract right now."
BARREN YEARS FORGOTTEN
McLaren has not won a race since the 2012 season-ending Brazilian Grand Prix and only managed two podiums in 2014 - both achieved at the opening Australian Grand Prix.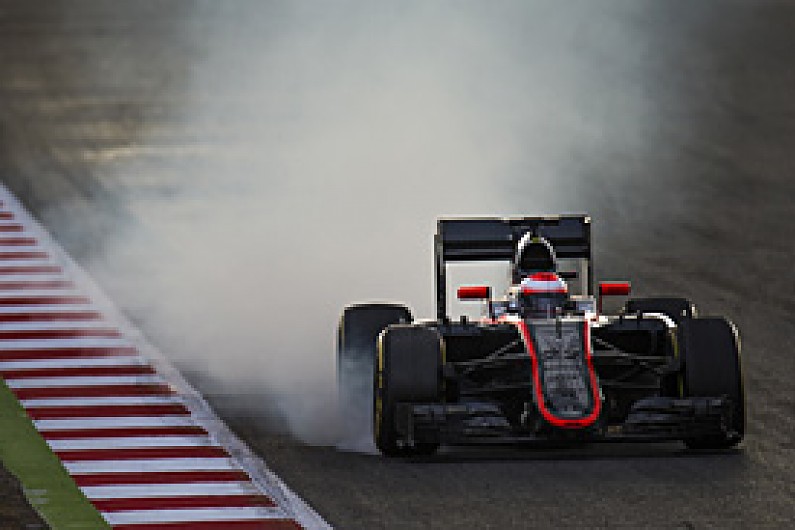 But Button says he doesn't expect a repeat of the struggles the team has encountered in 2013 and 2014 despite a difficult pre-season with its new engine partner.
"We're not in for another tough season," said Button. "Whether we are ready for the first race or not, that is something I can't answer right now.
"This is a very different situation to the last two years when we just weren't quick enough. Now, it's all new for us.
"Everyone else out there has so much experience with these power units whereas Honda obviously doesn't so it looks worse than it is.
"I would love to be pounding round every day we drive the car but it's just not the case right now.
"There are problems which we need to solve which we will solve.
"I hope the next test will be a good one for us in terms of mileage so we can feel confidence going to the first race and make the most of what we have and push the car to the limit.
"Every time I get in the car, everything feels right - I just haven't pushed this car yet."