Newly-crowned Formula 1 world champion Lewis Hamilton allowed himself a single celebratory drink with his family on Sunday night, before vowing to return even stronger in 2015.
After clinching his second F1 title at the Abu Dhabi Grand Prix, Hamilton shunned wild celebrations for a quiet dinner with his family before meeting team members for their end of season party.
"I had one drink last night and that is more than good for me," he smiled as he appeared fresh faced at a press conference on Monday morning.
But, as he jested with a more weary team boss Toto Wolff, Hamilton said thoughts were already turning to how he could do an even better job next year.
"Naturally it is going to be a dream to be able to go into next season and go in even stronger. That will be the goal," he said.
"I have absolute faith in the team that we will come in very, very strong next year.
"In 2009 [the last time Hamilton defended a title] the car was a lot different, the aerodynamics of the car changed, whereas next year it is similar.
"I do believe that working with Petronas we can improve the engine and car. I know we are making positive steps in that way, and I am looking forward to going into the factory, downloading every bit of input I can, and working on the areas I can improve."
QUALIFYING A KEY FOCUS
Hamilton is already aware of the areas where he can do better in 2015, with qualifying one aspect to look at after Nico Rosberg beat him 12-7 in their intra-team battle.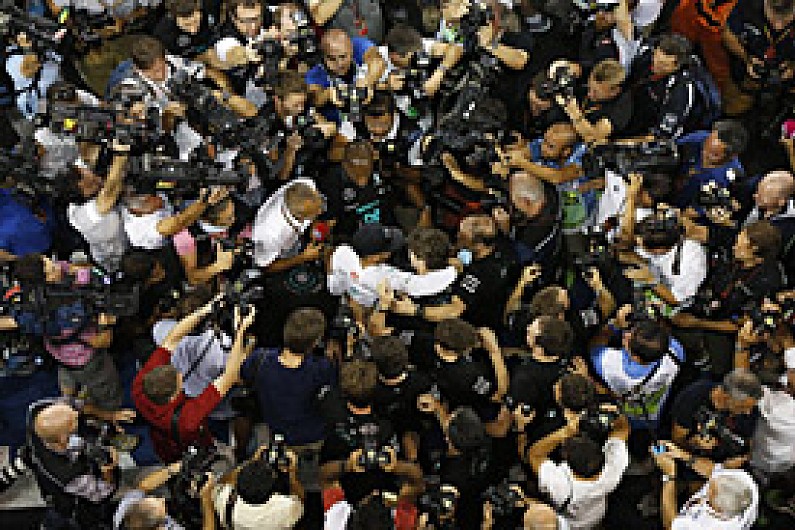 Although delighted his race form has been so strong this year, Hamilton feels that doing a better job on Saturdays can only make his life easier.
"This year has shown that race day is the most important," he said.
"But it definitely makes the race twice as hard when you are not ahead of your team-mate with the same car.
"When you look back over the years, there was all that talk that 'Lewis cannot make his tyres last because of his aggressive driving style'.
"But through the races this year I think I have proved time and again that I use less fuel, I am able to utilise my tyres as good as anyone, and position my car in the right way to be able to get past people and use my racecraft. That is the greatest feeling.
"Of course qualifying is an area that I will work hard to improve on next year, but I have no worries on that.
"Nico did a great job, especially with his qualifying laps, but I will look into the detail to see how I can improve next year."