Felipe Massa thought he and the Williams Formula 1 team were on course to end the 2014 Formula 1 season with victory in the Abu Dhabi Grand Prix.
The Brazilian kept within range of eventual world champion Lewis Hamilton and the second Mercedes of Nico Rosberg throughout the first half of the race and took second when Rosberg began to suffer mechanical problems.
Massa switched to Pirelli's super-soft tyres for his final stint and slashed Hamilton's lead from around 15 seconds to just 3.2s before the rubber went off in the final two laps.
"I didn't expect that, to have that pace," he said. "We tried but Lewis was just a little bit too far.
"When there were 10 laps to go I said 'if the tyres stay like that, I can win the race'. But the tyres were degrading a little bit.
"In the last four laps, I didn't have [enough] compared to him to catch like I was catching him before.
"I wanted that victory so much, but we were close and I hope that's just the beginning for next year."
THIRD IN CONSTRUCTORS' CLINCHED
Second for Massa and third for Valtteri Bottas delivered the Williams team its first double podium since 2005 and also confirmed its third place in the constructors' championship, its best result since finishing second in 2003.
"It's fantastic to be a part of it," Massa added. "Today was so nice to see we are there, we can win a race, we can fight for victory.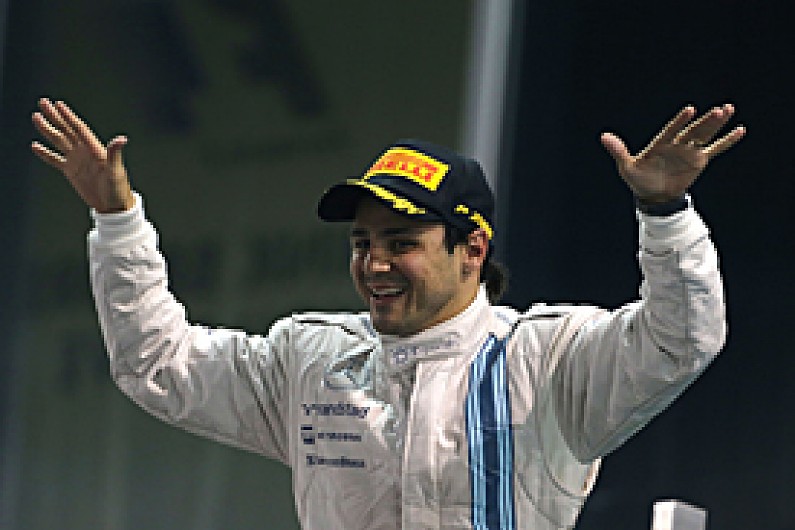 "[It has been] such a difficult time for so long and we are still there, we had opportunity to fight for the victory and that is what makes me proud, makes me happy and makes me even more motivated to carry on and push hard every day."
Bottas's third place propelled him to fourth in the final drivers' standings and the Finn echoed his team-mate's view that Williams was well placed going into 2015.
"Like Felipe said, an amazing end to the season and from last season it has been just incredible how much we have improved, as a team," he said.
"Two cars on the podium, it really shows how much we have also been improving during the season which is the main thing as next year things are going to be very tricky.
"All I can say now is I am happy to be part of this team now as we are really on the up - from us and my side there is definitely more to come."