Sebastian Vettel said memories of his first-lap clash with Bruno Senna in the 2012 Brazilian Grand Prix triggered his loss of ground early in this year's Interlagos Formula 1 race.
The Senna incident at the Descida do Lago corner two years ago (pictured) almost cost Vettel that season's F1 title, as he had to fight back through the field after spinning in a tangle with the then-Williams driver.

This year Vettel lost out to Kevin Magnussen and Fernando Alonso when he ran wide at the same corner dodging a move from the McLaren on the opening lap.
"I had a good launch, then I had nowhere to go in Turn 1, then at Turn 4 maybe I don't have the best memories from two years ago," Vettel explained of his drop from sixth to eighth on lap one.
"I didn't know how aggressive Kevin might be and left a little too much space, I lost the car and went wide, and lost positions because I couldn't get on the power out of the corner.
"I lost momentum, and had to fight hard to get the positions back through the race."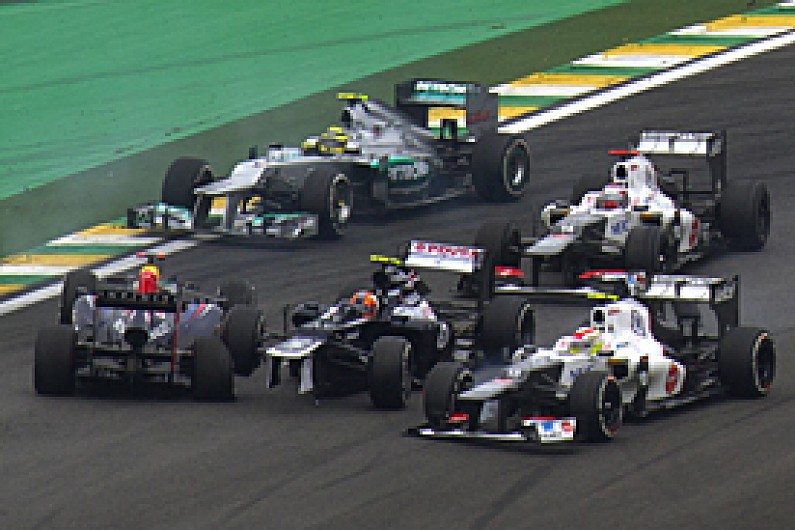 Vettel eventually made it back to fifth place in his Red Bull, although he was disappointed that he could not challenge Jenson Button's McLaren for fourth.
"At the beginning of the race I think we were hoping we would be stronger against the McLaren, but it seemed very competitive today and if anything we were matched," said the German.
"I was hoping for maybe one more position but in the end sixth is a good result."
RICCIARDO SUSPENSION INVESTIGATION
The second Red Bull of Daniel Ricciardo retired when running eighth just after half-distance.
The Australian initially thought his left-front brake had failed, but the problem turned out to be with the suspension, and Red Bull plans to carry out a thorough investigation into the failure.
"We don't know the cause," said team boss Christian Horner.
"We need to quarantine the parts and have a good look at whether any contact was made early in the race and understand what the cause is."
Ricciardo added: "A few laps before I felt a little bit of wobbles when I was braking. The car seemed to be behaving a little bit weird.
"You never know, it could be tyres wearing, so you try not to take too much notice, but eventually when I braked into Turn 1 the car shot a little right."