Caterham and Marussia have been deemed to be in breach of Formula 1 regulations by not participating in the United States Grand Prix, but will escape penalties for now.
Although both teams were said to have had dispensation to miss the Austin event from F1 supremo Bernie Ecclestone, the FIA stewards made it clear on Thursday that the teams were not allowed to be absent.
F1's sporting regulations state that teams must race in every event of the championship.
Article 13.2 (f) of the rules states that a team's entry to the championship includes: "An undertaking by the applicant to participate in every event with the number of cars and drivers entered."

ANALYSIS: F1 cost crisis - What happens next
With both teams absent and failing to produce cars for scrutineering, the FIA stewards said that the matter would need to be reviewed by president Jean Todt.
Statements relating to the teams said: "Having considered the requirements of article 13 of the 2014 Formula 1 sporting regulations, in particular article 13.2 (f), and the entry form lodged with and accepted by the FIA in accordance with appendix 2 of the sporting regulations, the stewards decide that [the teams are] in breach of the regulations.
"In view of the team's current financial circumstances, the stewards also decide to not impose any penalty.
"Because of the particular nature of the breach, the matter is referred to the attention of the FIA president."
MARUSSIA'S NINTH PLACE COULD BE CHALLENGED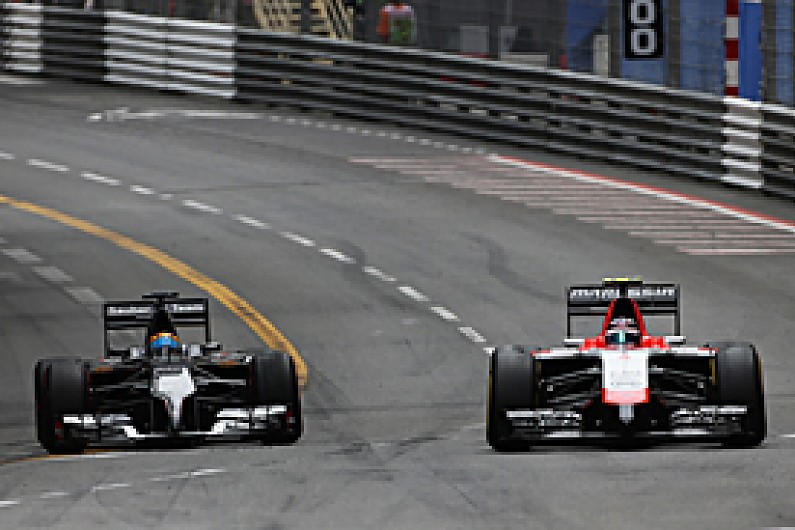 If Marussia is deemed to be in breach of the rules, it could open up the prospect of its ninth place in the constructors' championship being challenged.
Sauber team principal Monisha Kaltenborn, whose team could benefit if Marussia loses that spot, said the situation would only become clear at the end of the year.
"First of all have to wait and see what happens at the end of the season," she said.
"There are different provisions we have which would regulate these kind of events.
"But there are two areas you have to look at. One is that when you enter the championship under those rules you have to participate or enter every event which has not been done here.
"I don't know what exactly the consequences will be, that is for the FIA to decide.
"But there are of course financial consequences. That is a different area - although in that regime you are allowed to miss a certain amount of events."
Autosport has produced a standalone special magazine to celebrate our 70th birthday. All current print subscribers will receive a copy for free. To order your copy of the 196-page Autosport 70th Anniversary issue, please go to: autosport.com/autosport70th