Closed cockpits returned to the Formula 1 agenda after Jules Bianchi's Japanese Grand Prix accident, but the sport's chiefs admit it is a route fraught with great difficulty.
Bianchi remains in a critical condition in hospital after he crashed into a recovery vehicle at Suzuka.
The extent of the damage to his car, allied to the severity of his head injuries, prompted calls for F1 to seriously reconsider closed cockpits to better protect drivers.
AUTOSPORT technical contributor Craig Scarborough has depicted above how a current car could look with a two-part canopy that shrouds a forward roll hoop.
But is such a solution realistic, and would it actually deliver guaranteed safety benefits?
SOLUTION COMPLICATED
The most recent push to improve cockpit protection came after Felipe Massa was injured when hit by a spring from Rubens Barrichello's car in qualifying for the 2009 Hungarian GP.
Massa's accident came just a week after Henry Surtees was killed by a flying wheel in a Formula 2 race at Brands Hatch.
Despite the FIA making good progress in evaluating a concept that works, it received a cold reception from teams last winter amid fears such changes would make cars too ugly.
Nevertheless, the FIA continued to work behind the scenes on ways to improve head protection.
Initial tests of jet-fighter style canopies were not encouraging - with a polycarbonate version shattering in impact tests, while an aerospace canopy flexed too much.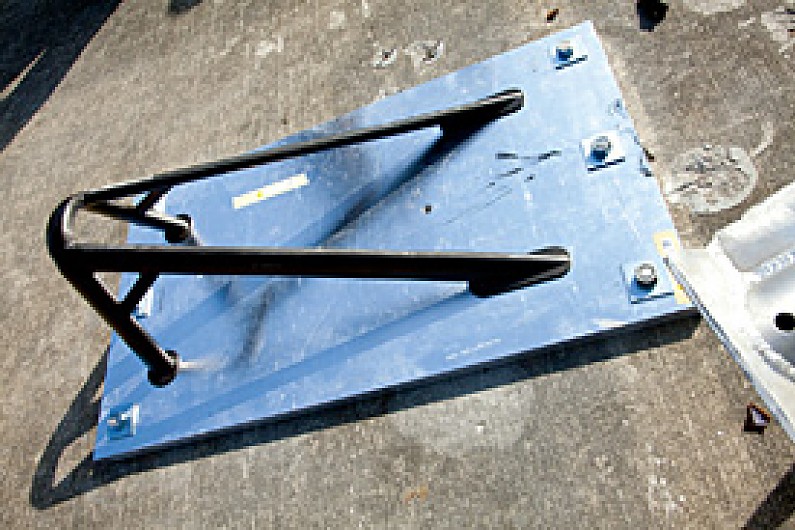 That is why the most recent focus has been on a more rigid roll hoop structure that would deflect flying debris away from the driver's head.
Speaking recently about work on this area, F1 race director Charlie Whiting said research had thrown up some unforeseen complications.
"It is very difficult to find something that is strong enough to stop a wheel and allows the driver to actually drive the car without being adversely affected by the presence of this structure in front of him," explained Whiting.
"One of the things that surprised us during this research of throwing a wheel through a cannon onto the roll structure was that you would think that it [the wheel] would immediately bounce off.
"But it doesn't unfortunately. It continues because of the tyre deflection. It takes a long time for it to have upward motion beyond where it hits the roll structure.
"So that is the reason the structure has to be so high. We found it has to be 20 centimetres higher than the top of the driver's head, which makes it quite a big substantial structure.
"It is not simple - in fact research is still going on, and will continue to do so, until we find a solution."
BIANCHI CIRCUMSTANCES UNIQUE
Although the nature of Bianchi's crash has put the focus on better head protection, Whiting has warned that no cockpit cage may ever have been strong enough to withstand such an impact.
"Early indications are that the forces exerted on the roll structure, for example on Jules' car, were way in excess of test loads," he said.
"I have a strong suspicion that under those exact circumstances, it might be very hard to find a solution given how difficult it currently is to find a solution to stop a wheel hitting a driver's head.
"I have a strong suspicion that it will probably be impractical to try to cater for that precise incident again, but that is not to say we cannot improve.
"History has shown that we have always made efforts to try to make things better.
"Lots of incidents have happened, none perhaps as serious as the [Bianchi] one, but we do attempt to learn from every incident if we possibly can."