Mercedes boss Toto Wolff has rubbished talk of a conspiracy by his Formula 1 team to help Lewis Hamilton win the Italian Grand Prix rather than Nico Rosberg.
Hamilton was handed victory at Monza after race leader Rosberg lost time by using the escape road at the first chicane twice during the race.
Coming in the wake of the German being disciplined for crashing with Hamilton in the Belgian GP, his incidents in Italy prompted wild talk that deliberately sacrificing the win may have been a further sanction.
But Wolff was quick to dismiss such talk - saying it would have been virtually impossible to execute what happened on purpose.
"Only a paranoid mind could come up with such an idea," explained Wolff about the conspiracy theories.
"If it had been our idea, it would have been bloody well done!
"There was lots of pressure on Nico because Lewis was so quick yesterday and you could see that today as well."
Wolff said that there was no technical reason to explain why Rosberg went down the escape road twice in the race, although he did reveal that the German's brake balance had been tweaked during the race.
"We tried to protect the rear [brakes], so we went forward with the brake balance. He hit the brake hard and missed the braking point.
"It was bizarre. But there isn't any mechanical reason behind it."
Rosberg himself also dismissed the conspiracy talk - and said there would be no grounds for his Mercedes bosses to demand that he sacrifice a victory for Hamilton.
"I've heard about that [the conspiracy theory], but what would be the reason for me to do something like that deliberately?" he said. "There is no possible reason.
"If you're ordered by the team to do it then you would do it, but there is no reason why the team would ask me to change position, or something like that."
ELECTRONICS BLAMED FOR HAMILTON START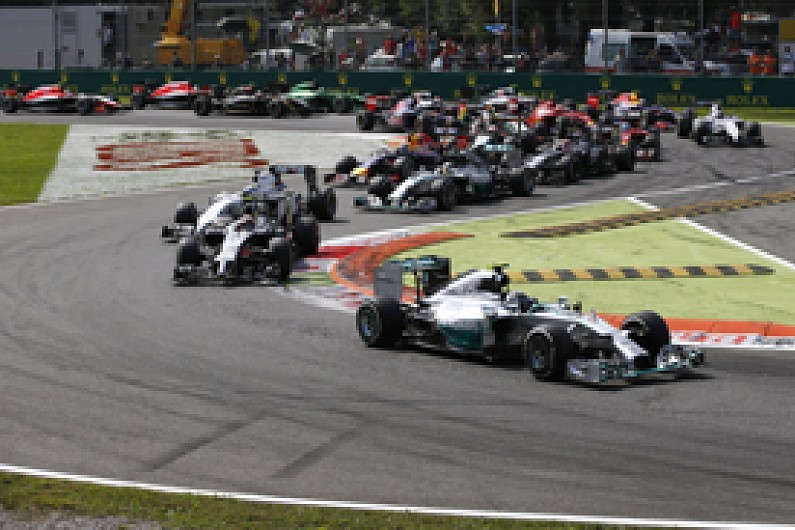 Pole position man Hamilton had to fight back from fourth place in the race, after a poor start dropped him down the order.
Wolff revealed that the problem had been caused by an electronic issue that meant the clutch did not behave properly.
"We had an electronic problem which we had on the warm up lap and also on the start," he said.
"We need to find out what it was exactly. But we got it wrong.
"So Lewis didn't have an optimum start. In the procedure there is lots of clutch calibration and that was not perfect, so the start was not good."