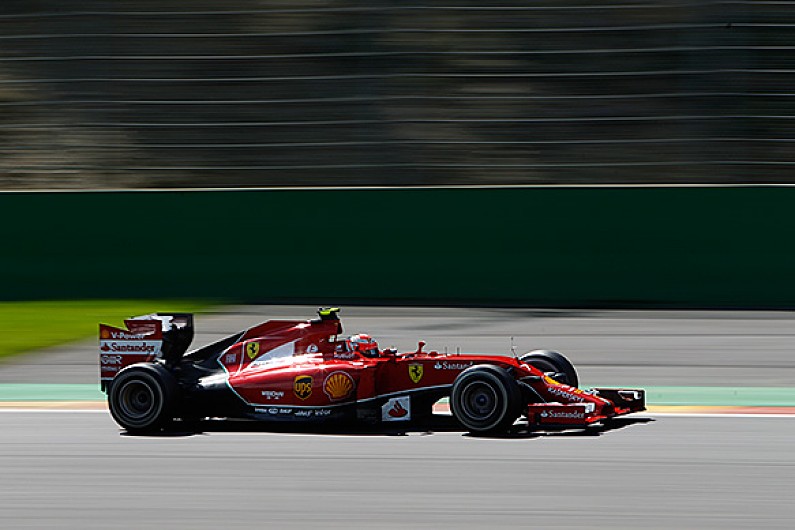 Kimi Raikkonen says his season-high fourth place finish at the Belgian Grand Prix was simply down to the fact that it was his first clean race of the 2014 campaign.
The Finn, who has endured a troubled season so far for Ferrari, said he has had a "better feeling" in the car for a few races now, and that his fourth-place finish at Spa is more about having a clean race than he and Ferrari finding more speed.
"The race was clean, no issues like in the past, we always had something happen," he said.
"It was probably the first [clean] race of the year. That helps. We could do our own race, and the result was a bit better.
"At the last few races we had a better feeling, but a lot of things happened in qualifying and the races.
"We had some damage on the wings by getting hit by other cars, and it compromises your race because you can't run your own speed.
"The main thing is we had a clean race with no issues. We could push. There was still difficulties with the car handling-wise, but we expect that.
"Sure there are things that we have to improve, but the feeling has been there for a while, it's just been comprised by the mistakes or things happening to us.
"Hopefully we start getting more clean weekends. It would make life easier, and probably the results better."
Raikkonen added that fourth was the best he could achieve today, and that he did not consider himself to be battling with Valtteri Bottas for third place, given the Williams's superior straightline speed.
"Not much of a fight, really," he said. "In a straight line they are much faster. One lap he almost got me, but I could keep him behind, then on the next lap there was no chance. For me, it doesn't count.
"We are a bit down on power. For sure we don't have the horsepower or the engine that they have, and the energy recovery that they can achieve, and that's the bigger problem right now.
"But we've improved that, for sure it is better than at the beginning at the year."
Autosport has produced a standalone special magazine to celebrate our 70th birthday. All current print subscribers will receive a copy for free. To order your copy of the 196-page Autosport 70th Anniversary issue, please go to: autosport.com/autosport70th