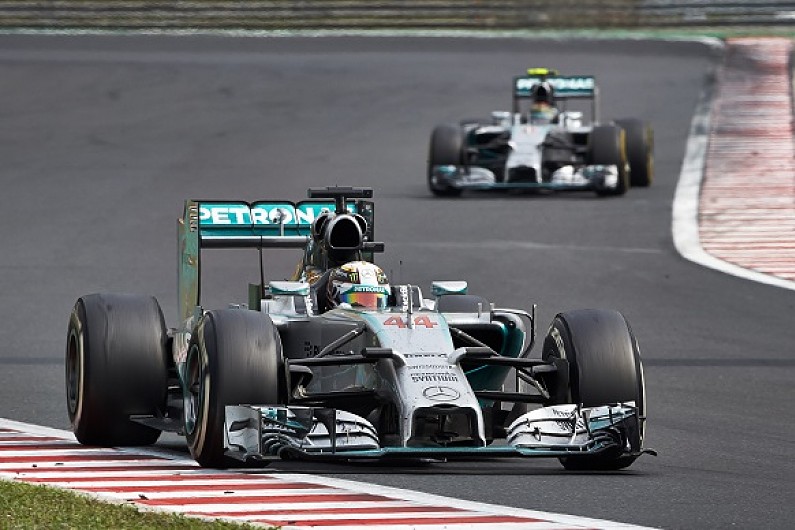 Lewis Hamilton was right to ignore team orders to let Nico Rosberg through in the Hungarian Grand Prix, according to Mercedes Formula 1 chief Niki Lauda.
Hamilton refused a request by the team to let Rosberg past him with one-third of the race remaining as the title rivals were running on different strategies.
Mercedes non-executive chairman Lauda thinks that the situation should never have happened in the first place and that the orders were the result of panic.
"I have to defend the team," said Lauda, when asked by AUTOSPORT for his reaction to the controversy.

Hamilton 'shocked' by radio call
Rosberg denies asking for team orders
"The team was under enormous stress today because the race was a very difficult one, there is no question.
"This race, with the safety car at the beginning and the wet conditions, was a completely different race. So every minute you had to decide something different.
"In this stress the team told Lewis he should let Nico by because he was on softer tyres and has to come in anyway.
"If he [Nico] had been in the DRS position, he would have let him by. But Nico never got that close.
"Therefore I do understand that Lewis said 'Why? Why should I stop now in the middle of the circuit to let my team colleague by?' He is fighting for the championship.
"So from my point of view Lewis was right. And why the call came, this happened out of the panic and we had to make up for what we were losing."
WOLFF: HAMILTON ACTIONS NOT ONLY REASON FOR DEFEAT
Although Rosberg's chances of winning the race would have been boosted by Hamilton letting him past, Mercedes motorsport boss Toto Wolff said that the defiance was not the sole reason Daniel Ricciardo took his second win of the season.
"The team result suffered because of many things that were going on in the race," explained Wolff.
"The safety car, where you see the top three runners ended up fourth, seventh and eighth, meant we suffered. Then we had a brake by wire issue on the lap after the safety came in - so lots of things could go wrong.
"It would be wrong to pin it down to one single situation and say this was the reason why the race result suffered or Nico didn't win the race.
"As a matter of fact, when he [Rosberg] was behind him the pace dropped, he wasn't anywhere near for overtaking - that is also clear. So it wasn't an obvious case where he was all over him, that wasn't the case...
"It [the defiance] could be one of, but we don't know if Nico's pace would have been good enough to pull the gap which would have helped him to win the race."
Autosport has produced a standalone special magazine to celebrate our 70th birthday. All current print subscribers will receive a copy for free. To order your copy of the 196-page Autosport 70th Anniversary issue, please go to: autosport.com/autosport70th