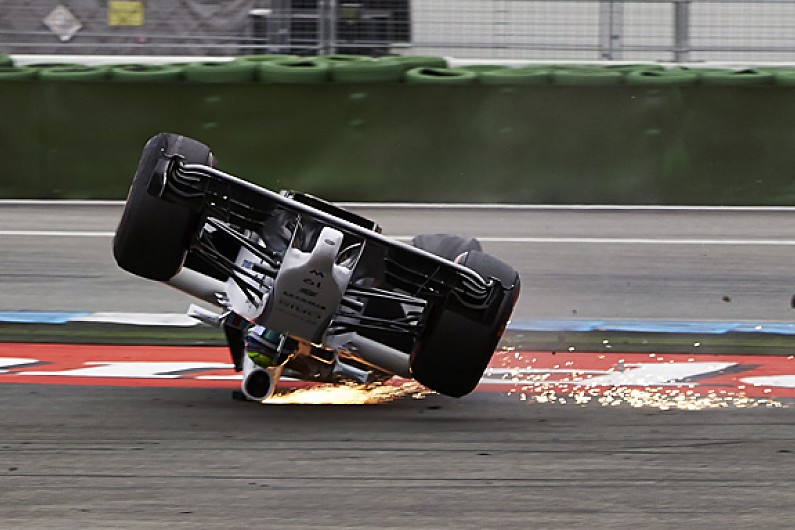 Felipe Massa has called on Formula 1's younger drivers to calm down, following his first corner crash with Kevin Magnussen at the German Grand Prix.
The Brazilian believes that the McLaren driver was to blame for their collision at Turn 1 that flipped his Williams upside down and out of the race.
Having felt that Magnussen had the opportunity to back out of the move, Massa says he is frustrated by the number of incidents being caused by too much aggression from new drivers.
"It is not the first time he has been in an accident on the first lap," said Massa.
"Most of the time, these young drivers, they want to win the race at the first corner.
"And if you take most of the accidents that happen, it happens mostly with them."

Magnussen says he had nowhere to go
Massa believes there are more collisions now compared to when his generation of drivers were coming through.
"Honestly I don't remember in the past that this type of accident happening all the time," he said.
"I was young and I even crashed many times, but I don't remember following different rules to the ones we have.
"I don't remember myself, Kimi [Raikkonen], Fernando [Alonso], being involved as young drivers in so many things like that.
"But anyway, it is just the way I think: I am not saying the young drivers don't have the talent to be in F1, it is very good talent.
"But sometimes you need to understand that you cannot win the race at the first corner."
Magnussen has not spoken to Massa about what happened at the first corner, but the Brazilian says he will offer him some key advice when they do talk about it.
"Take it easy," said Massa, when asked what he will tell Magnussen. "I am not losing alone, he loses as well.
"He spun and maybe his car was not the same, so he lost points as well. I hope it is enough to understand to take it a bit easier at the next race."