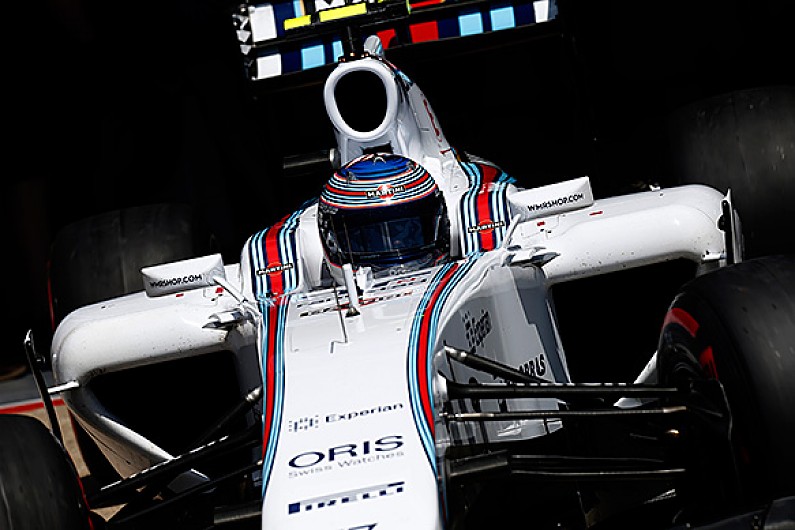 Williams Formula 1 drivers Felipe Massa and Valtteri Bottas feel they both missed a golden chance to beat Sebastian Vettel's Red Bull in qualifying for the Canadian Grand Prix.
Massa was second fastest in final free practice on Saturday morning and briefly topped Q2 in qualifying, but wound up fifth on the grid after struggling with his brakes in Q3.
"I had a good temperature in the brakes until the first run in Q2 and then the last three runs my front brake on the left wheel was too cold, so I was always locking the front wheel in corner one and losing time," explained the Brazilian when asked by AUTOSPORT if something had gone awry during his final qualifying runs.
"We need to understand why, but it's clear on the data that the front left was too cold.
"It didn't help, especially when you have a track where it's not easy to warm up the tyres. I think it cost me third."
Team-mate Bottas will start fourth after failing to improve his time on his final run.
The Finn wound up just two thousandths of a second slower than Vettel and blamed traffic on his out-lap for costing him a shot at third on the grid.
"I think today in the last run we had we had a bit more traffic than in any other run before," Bottas said when asked by AUTOSPORT why he had not improved on his final run.
"We had traffic on the out-lap, [and] again we struggled a bit with the front tyre warm-up.
"I couldn't go at the pace I really wanted, so the front tyres were not ready for the timed lap.
"At least both cars are in a good position. We know that we can have a good fight tomorrow."
The team's head of vehicle performance Rob Smedley agreed his drivers had the potential to be third and fourth on the grid, but for what he described as a "monumental" lap from reigning world champion Vettel.