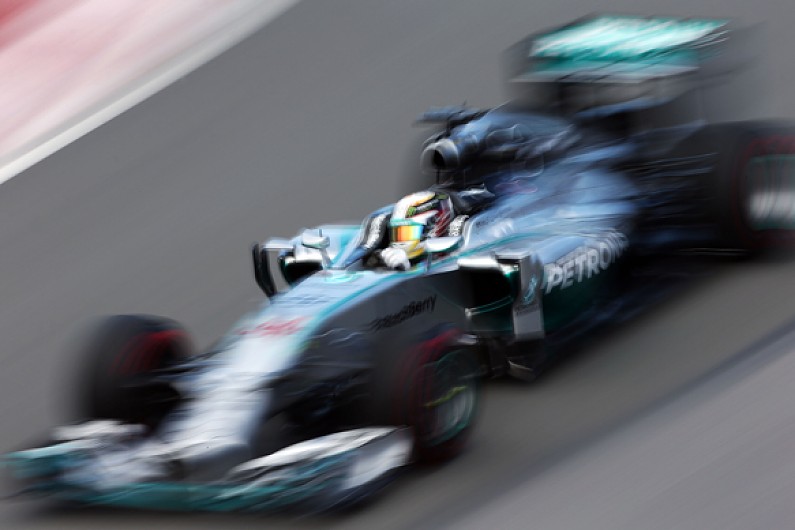 Lewis Hamilton marked himself out as one of the favourites for pole position as he set the pace in the final practice session for Formula 1's Canadian Grand Prix.
The Briton was just under half a second quicker than Felipe Massa as the Brazilian raised the hopes of a strong weekend for the Williams team.
Hamilton's Mercedes team-mate Nico Rosberg was third quickest at the end of the final one-hour practice session on Saturday morning ahead of qualifying.
The Mercedes both set their best times on the soft tyre and were unable to improve on super-softs, unlike the majority of the field.
The top three were trailed by the Ferraris of Fernando Alonso and sixth placed Kimi Raikkonen, as the Italian team maintained its impressive practice pace at a hot and sunny Circuit Gilles-Villeneuve.
They were split by Daniel Ricciardo in his Red Bull in fifth, while his world champion team-mate Sebastian Vettel rounded out the top 10.
The two Toro Rossos of Daniil Kvyat and Jean-Eric Vergne were eighth and ninth fastest respectively, just one position behind Valtteri Bottas's Williams
A number of drivers were struggling on the brakes into the tight Turn 10 hairpin and locked up into the run-off area unharmed. There were also a few spins into the tricky Turn 8/9 chicane, as both Sergio Perez and Marcus Ericsson made errors there.
The session was red-flagged 15 minutes into the session after Esteban Gutierrez spun his Sauber under braking for Turn 3 and clattered into the outside wall.
At that stage, only eight cars had managed to set a laptime with Kevin Magnussen quickest in his McLaren at the interruption. The Dane lost control of his car later in the session with a spin under braking for Turn 1.
Pos  Driver             Team/Car              Time       Gap      Laps
 1.  Lewis Hamilton     Mercedes              1m15.610s           18
 2.  Felipe Massa       Williams-Mercedes     1m16.086s  +0.476s  16
 3.  Nico Rosberg       Mercedes              1m16.120s  +0.510s  20
 4.  Fernando Alonso    Ferrari               1m16.488s  +0.878s  15
 5.  Daniel Ricciardo   Red Bull-Renault      1m16.504s  +0.894s  15
 6.  Kimi Raikkonen     Ferrari               1m16.528s  +0.918s  22
 7.  Valtteri Bottas    Williams-Mercedes     1m16.684s  +1.074s  20
 8.  Daniil Kvyat       Toro Rosso-Renault    1m16.820s  +1.210s  21
 9.  Jean-Eric Vergne   Toro Rosso-Renault    1m16.824s  +1.214s  19
10.  Sebastian Vettel   Red Bull-Renault      1m16.884s  +1.274s  15
11.  Nico Hulkenberg    Force India-Mercedes  1m16.944s  +1.334s  17
12.  Kevin Magnussen    McLaren-Mercedes      1m16.993s  +1.383s  19
13.  Romain Grosjean    Lotus-Renault         1m17.121s  +1.511s  21
14.  Sergio Perez       Force India-Mercedes  1m17.188s  +1.578s  19
15.  Pastor Maldonado   Lotus-Renault         1m17.224s  +1.614s  21
16.  Jenson Button      McLaren-Mercedes      1m17.360s  +1.750s  23
17.  Adrian Sutil       Sauber-Ferrari        1m17.900s  +2.290s  23
18.  Jules Bianchi      Marussia-Ferrari      1m18.518s  +2.908s  25
19.  Max Chilton        Marussia-Ferrari      1m18.525s  +2.915s  19
20.  Marcus Ericsson    Caterham-Renault      1m19.865s  +4.255s  23
21.  Kamui Kobayashi    Caterham-Renault      1m20.227s  +4.617s  14
22.  Esteban Gutierrez  Sauber-Ferrari        1m22.388s  +6.778s  6