Renault has called for a sense of perspective over the current noise debate in Formula 1, saying attempts by rival Mercedes to improve engine sound were made in "good faith".
Mercedes trialled tweaks to the exhaust profile on its car during the second day of this week's in-season Barcelona test, prompting derision from some fans for the 'trumpet' shape of the exhaust.
Driver Nico Rosberg also admitted attempts to increase noise with this modification were unsuccessful.
Mercedes conducted the FIA-led experiment with the full support of rival engine manufacturers Ferrari and Renault, and Renault Sport F1's deputy managing director (technical) Rob White warned against the noise debate getting out of hand.
"It's not something that can be permitted to take on a life of its own and overtake everything else that's going on," White told AUTOSPORT.
"We've got to go racing and operate within the existing regulations.
"The work on the sound is being done for the greater good, [but] it doesn't feel like something we should get too bent out of shape about.
"The device was an attempt in good faith by the engineering group at Mercedes to investigate what might be possible without being too intrusive to the power unit."
PROPER SOLUTION NEEDED
White said the new generation of cars sound as the engine builders expected they would, because the V6s use less fuel than the old V8s, rev less and are designed to recover as much energy as possible rather than waste it as sound.
However, he conceded it was important that F1 listens to its fans and makes changes if necessary.
"The scope to make a profound change is very limited and I don't think we should do anything overly contrived, but if there's the opportunity to make modest changes without doing stuff too artificial, that should be considered in the balance of things that can be done to look after the product," White added.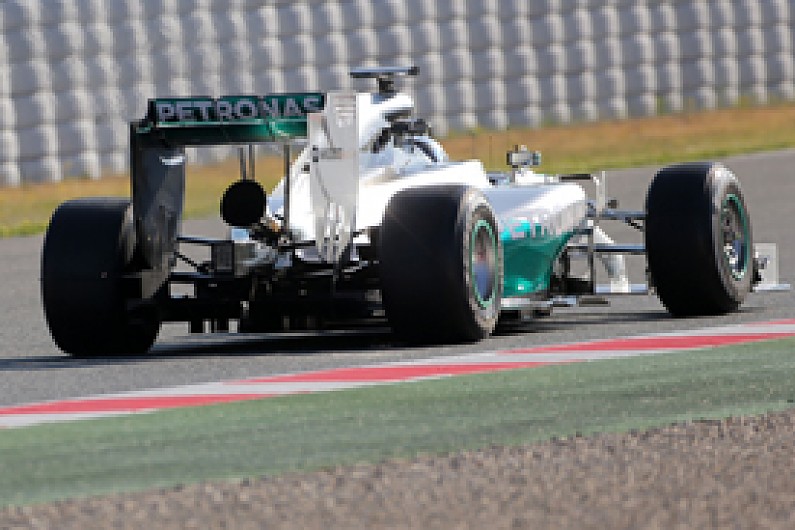 "We need to be putting on a show that people want to look at.
"Clearly there's been mixed reaction and it's important to take on board the views of significant stakeholders, like promoters and fans.
"The problem needs to be very well defined. If it's well defined, F1 will deliver the absolute most optimum solution possible.
"The piece on the [Mercedes] car was I believe the most expedient to put on the car in short order.
"For the time being, it's early days and we're in an exploratory phase."
Autosport has produced a standalone special magazine to celebrate our 70th birthday. All current print subscribers will receive a copy for free. To order your copy of the 196-page Autosport 70th Anniversary issue, please go to: autosport.com/autosport70th