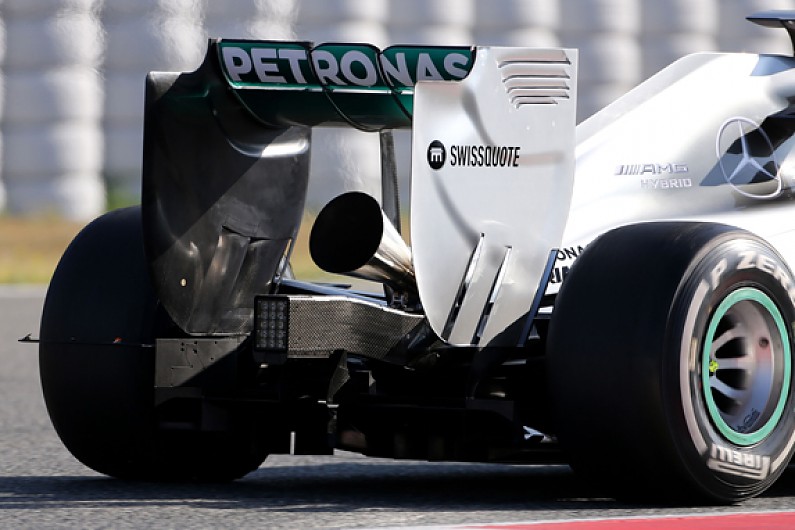 Mercedes has started track-testing its experimental 'megaphone' exhaust, designed to make Formula 1 engines louder.
After criticism of the volume of the engines during the early stages of the season, the FIA and teams have been working on ways to increase the noise level of the latest generation of F1 machinery.
The exhaust features a flared exit, as shown in the picture tweeted by the team on Tuesday night.
Mercedes has commenced back-to-back running with its conventional tailpipe during the early stages of Wednesday's test with Nico Rosberg hitting the track using the modified design on his first run.
If it is found to work and the teams agree unanimously to do so, the exhaust concept could be made mandatory during this season.
Although Mercedes is conducting the test, all three engine manufacturers have been part of the process leading to this experiment.
"We are fully involved and engaged in the work that's going on, led by the FIA," Renault Sport F1 deputy managing director (technical) Rob White told AUTOSPORT.
"Mercedes have shared their initial results from a dyno test of this device and the FIA have got some acoustic consultants who have visited us and have had access to our existing dyno test results, including sound measurements.
"They are doing some further work at our factory. We are in an exploratory phase, trying to respond to the subject."
White believes that the exhaust being tested will have the desired effect but warned that it is important the change should not have an adverse effect on performance.
"There may be some potential to make a modest adjustment that makes them a bit louder and sound a bit nicer without in any way compromising the fundamental objectives," said White.
"This is F1 and there are unintended consequences to be careful of all over the pace.
"My short-to-medium concern is that we mustn't be put in a situation where we take a performance hit relative to our competitors, directly or indirectly, as a result of this subject.
"We are determined to fight our way back to a competitive position and it's important that the noise subject doesn't become a drain on that part of the project.