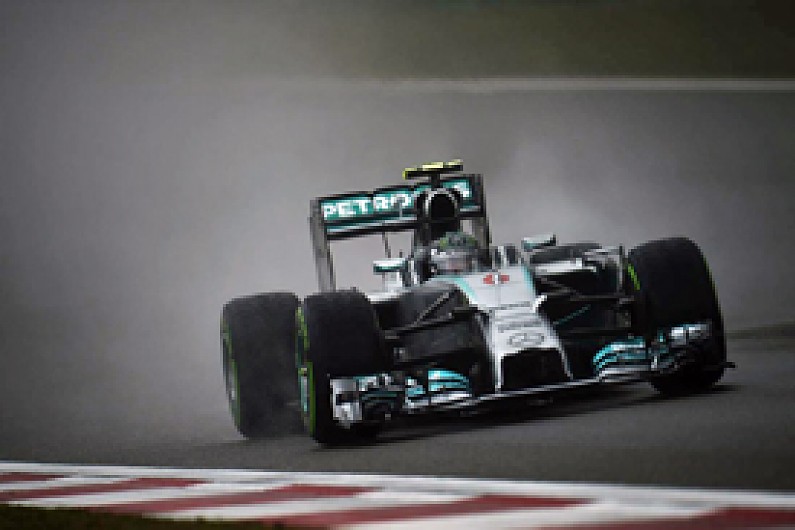 Nico Rosberg has revealed a misleading dashboard readout played a part in qualifying a disappointing fourth for the Chinese Grand Prix.

The Mercedes driver was 1.283 seconds slower than team-mate Lewis Hamilton's pole position mark after failing to improve on his first flier when he locked up and ran wide at the Turn 14 hairpin on the first attempt of his final run.

Rosberg had a second chance to improve, only to spin at the final corner in the belief that he had to make up time because his dashboard indicated he was two tenths of a second off his banker lap time, rather than six tenths up.

The delta on the dashboard is calculated by taking into account distance travelled and time in comparison to a reference lap.

But as Rosberg had travelled 30 metres further on the lap in question than on the reference lap, possibly as a result of distance added by different lines and lock-ups in wet conditions, the delta given was misleading even though the system was functioning correctly.

Chinese Grand Prix qualifying report

"I had an unexpected lock-up on the front, I don't know why it happened yet," said Rosberg of the mistake on the first attempt to improve his time.

"And then on the next lap, I was under a tenth slower by the time I got to Turn 14, so that would have been a quick lap.

"Unfortunately, coming out of the hairpin my time delta said to me that I was two tenths slower than my reference time, which was the one I qualified on.

"So I said 'two tenths off, just take a risk at the last corner because I'm slower'. You might as well go for it and I spun.

"I wasn't even annoyed, because I thought I was going to be slower. But I couldn't understand how I lost eight tenths in Turn 14.

"I knew I braked a bit carefully, but I had lost eight tenths looking at my dash, which was strange.

"It's so reliable normally that I believe it, and it was wrong. I was actually six tenths up going into the last corner, so that was the problem."

"The reason [why the dash didn't give an accurate reading] was that I did 30 metres more on that lap, because in the rain you are all over the place with the white lines."

Were Rosberg to have beaten his earlier Q3 lap by six tenths, he would have outqualified third-placed Sebastian Vettel and would have been close to securing a place on the front row ahead of Daniel Ricciardo.

But he accepted that he did not have the pace to beat Hamilton to pole.

"Even if everything would have gone right for me today, he was faster," said Rosberg.

"He's just been doing a good job in the wet."