Fernando Alonso has yet to speak to new Ferrari Formula 1 team boss Marco Mattiacci, and says he needs time to judge if the management change will prove a success.
Former team principal Stefano Domenicali resigned earlier this week following a disappointing start to the 2014 F1 campaign, and Ferrari has appointed the CEO of its North American operations to replace him.
Alonso was a close ally of Domenicali, and has been in touch with him regularly this week, but revealed in China that he had not yet talked to Mattiacci.
"I didn't have a chance. I don't know if he is coming here, I guess so," said Alonso.
"It will be a good time to welcome him and I have really not much to say.
"I drive the car and hopefully he will be good enough to recognise what are the weak areas of the team, what are the strong areas of the team, and hopefully can improve them."

ANALYSIS: Why Ferrari chose Mattiacci
Alonso thinks that Mattiacci will need time to settle in to his new F1 role, and suggests it is important Ferrari pulls together to try to get him up to speed with what improvements are needed.
"I think we need to give him time and try to see how he settles down," he said. "It is too early to say if it will be very good or very bad.
"We need to make sure we have the facilities ready, or technical staff ready and put him in a condition to feel comfortable from day one."
DOMENICALI SACRIFICE MUST NOT BE FORGOTTEN
Alonso said he had to accept Domenicali's departure, but hoped Ferrari appreciated what its former team chief had done.
"Stefano decided he was probably not in the mood to continue anymore," he said.
"And with the feeling of taking on weight on the shoulders, he made a very responsible move.

GARY ANDERSON on the Ferrari shake-up
"It is not easy when you have a very privileged position in an F1 team to be able to step back and say maybe it is better to move.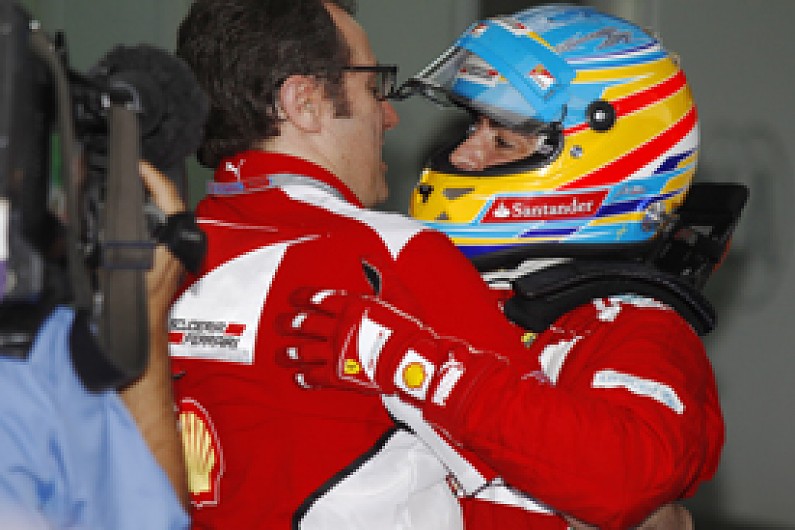 "He did, and [did so] for Ferrari to improve and for Ferrari's interest, so that is something that we cannot forget.
"We have to respect that decision."
The Spaniard added that there could be no quick fix for Ferrari's problems regardless of its restructure.
"For sure we will not improve by one second at this race, as I don't think Stefano designed the front wing or rear wing with his hands..." said Alonso.
"So we have to wait a little bit of time and see what we can improve and try to help all the team with the new people coming to make us a little bit stronger and get back some success from the past."