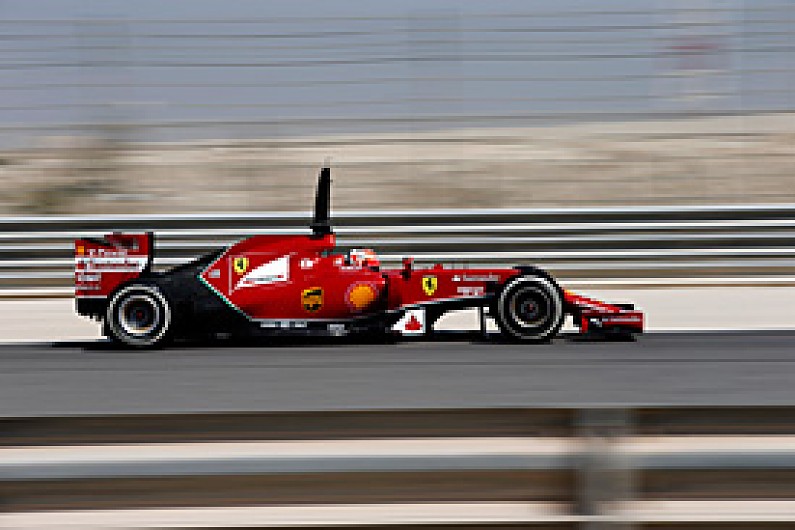 Kimi Raikkonen is targeting completing a race distance on his final day of Formula 1 testing on Saturday after a difficult first day in Bahrain.
The Finn managed only 54 laps today, ending the day third fastest, 1.142s off Sergio Perez's fastest time of the day.
He hands over to Fernando Alonso tomorrow but is scheduled to return for the penultimate day, which should be his last run in the car before Friday practice for the Australian Grand Prix on March 14.
The Finn has completed fewer laps than Alonso so far in pre-season testing, with the Spaniard having been able to do some longer runs.
"We will try to do the race distance, for sure," said Raikkonen when asked what the focus will be for his final day in the car.
"I haven't even tried to do it yet. I think Fernando did it so that's something that we are hopefully going to do and just see where we are really.
"[Beyond that], just normal things, trying things, learning again and hopefully we will be ready for the first race of the year."
Ferrari trialled some aerodynamic upgrades in Bahrain today, including a new front wing.
Although Raikkonen refused to draw any definitive conclusions, he is cautiously optimistic about progress.
"I am sure they were better otherwise we wouldn't have brought them," said Raikkonen.
"But there are still things to improve and things to try to put things together in the final moments [of testing].
"We will see where we are in the first race."
Raikkonen also claimed he is not worried about Ferrari's reliability relative to other teams.
While Mercedes and McLaren have both covered more ground pre-season, with 3073km and 2687km respectively, but Ferrari has logged only 400 less, with a figure of 2665km.
"I'm sure if we wanted to do 100 laps today, we could do," said Raikkonen.
"We had to do other things and try different things and try to see which way which changes go and learn a little bit because when it comes to race weekends there is not so much time to change stuff.
"At least I will have some idea of which way to go. I'm not too worried."