Red Bull technical chief Adrian Newey admits that the 2013 Formula 1 season fell into his team's hands after Pirelli's mid-season tyre change.
Despite Sebastian Vettel's eventual domination of the world championship, Newey felt the team was in a close fight until Pirelli returned to its 2012 tyre construction for the second half of the season.
"There was no guarantee that we were going to come out with a good car this year, and everyone has been chipping away at it," Newey told AUTOSPORT.
"It is the fifth season of this band of regulations - which is an ever-tightening band to work in.
"I think we saw at the start of the season it was very tight. Ferrari started off very strong and Mercedes came on very strongly, and certainly going into August we were feeling that this was going to be really tough.
"And then I think we made some small improvements to the car, Pirelli also had to go back to the 2012 tyres which seemed to suit the car better and it suddenly fell into our hands."

F1 rules 2009-2013: the exhaust-blown diffuser

Newey acknowledged that the original 2013 Pirellis had held Red Bull back.
"The tyre change certainly helped us, probably more than some of our competitors," he said.
"Our performance advantage has tended to be in high-speed corners and straightline braking, when you are putting maximum load into the tyres.
"So you then put on a tyre that is fairly fragile and not able to cope with high loads, and it stands to reasons that you will be less able to take advantage of it."
OTHER TEAMS HAD 'LUCKED IN' WITH 2013 TYRES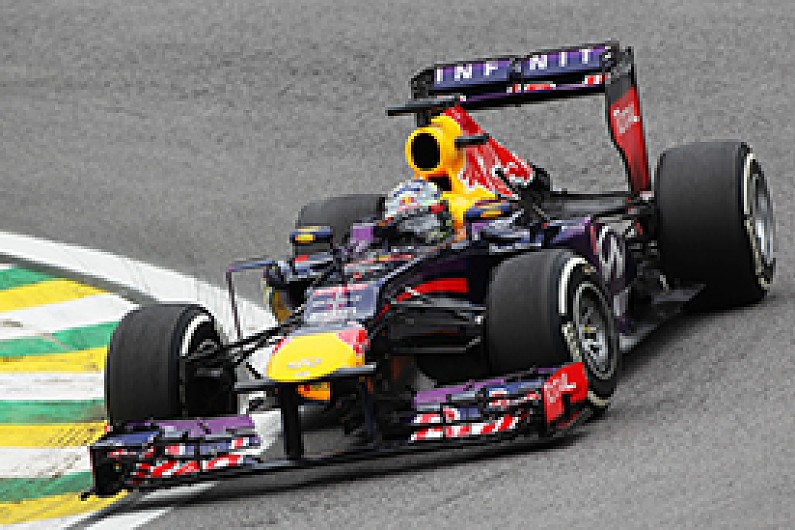 Newey dismissed any suggestion that the tyre change unfairly penalised teams that had optimised their cars around 2013 Pirellis, arguing anyone who benefited from this year's original rubber was simply lucky.
"Obviously there were a lot of politics surrounding that with a couple of teams in particular lobbying to stay with the 2013 tyres on the basis that they had been extraordinary clever in designing their car around these tyres," said Newey.
"We all play the game, but we also know that that is complete rubbish because none of us knew how these tyres were going to behave.
"We had one very quick session in P1 in Brazil [in 2012] with 50 degrees track temperature and that was it and off we went.
"Some teams lucked in, and others it hurt. We were in the hurt category unfortunately."