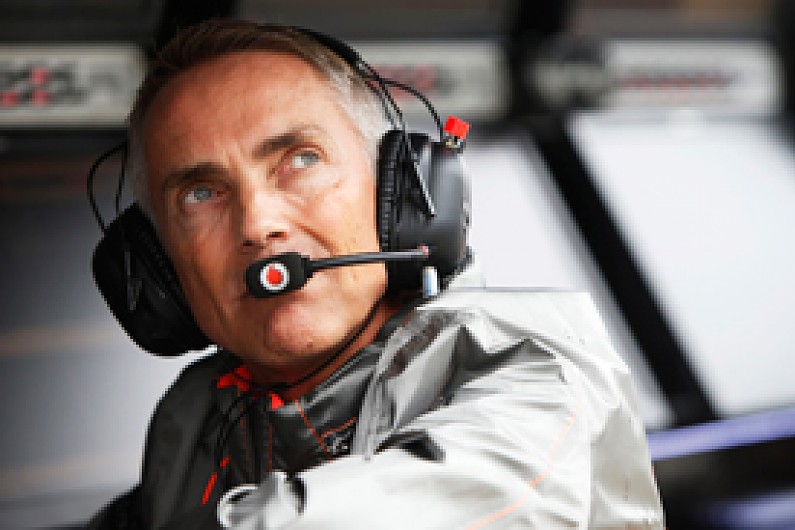 McLaren boss Martin Whitmarsh says his team needed the "kick up the pants" of
a poor season in order to better prepare
for its 2014 campaign.
The Woking squad endured its first winless season since 2006 this year and failed to make the podium in any race for the first time since 1980 as it finished a distant fifth in the constructors' championship.
But the team has made some significant changes, replacing Sergio Perez with Formula Renault 3.5 champion Kevin Magnussen on the driving strength for the new season, signing Sauber chief designer Matt Morris, and recruiting aerodynamicist Peter Prodromou from champion team Red Bull for 2015, when it will enter into a new engine partnership with Honda.
Whitmarsh reckons a bad season was the wake-up call McLaren needed to bounce back to top form in 2014, when a raft of significant regulation changes will come into force.
"Failure is a painful thing but a kick up the pants sometimes you need it personally and the organisation needs it," Whitmarsh told AUTOSPORT.
"I am an optimistic type of fellow, so I come out of it and say, 'I didn't like that much', but looking to the future it has made us make some decisions that would have been difficult to make last winter because, until Australia, we thought we were as good as anybody.
"The majority cannot sit there and say we don't need to change or we have done a
good enough job, because we haven't.
"Change in this environment is quite a lot easier, and change is essential in any organisation whether it is on top of its game or not.
"It is just more difficult to implement when it perceives itself to be on top of its game."
WHITMARSH FEARED FOR HIS OWN FUTURE
Whitmarsh says he also feared for his own future at McLaren, as the team struggled
with its recalcitrant MP4-28 design.
"To a degree," said Whitmarsh, when asked by AUTOSPORT if he worried for his own position in the team. "But the worst pressure on me is from me.
"The fact is if the wheel falls off, it is my fault. If the car is not good enough, it is my fault. If the driver makes a mistake, it is my fault.
"People talk about the pressure, but most of the pressure is internal."
Whitmarsh predicts McLaren will be a top team in Formula 1 for at least another decade after securing its deal with Honda.
"With the Honda deal, we know we are going to be here as a top team in 10 years,"
he added. "We have secured that, and there are not that many teams that have got
a secure commercial future in the way that we have."