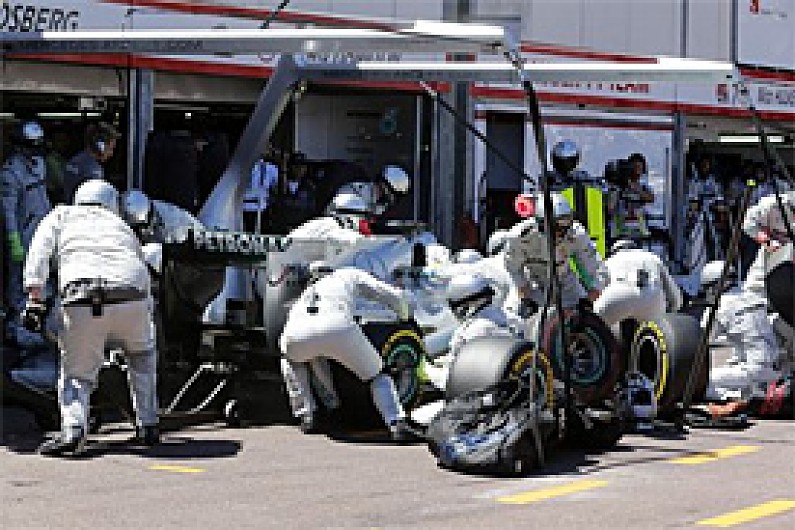 Outgoing Mercedes team boss Ross Brawn says mandating two pitstops per grand prix would be wrong for Formula 1.
A proposal for standardising F1 race tactics in 2014 will be considered by the sport's new Strategy Group next month.
If it is accepted, next year each driver will have to make two pitstops per race and cannot use that event's harder tyre compound for more than 50 per cent of the distance, or the softer tyre for more than 30 per cent, significantly reducing opportunities for strategic variation.
Asked by AUTOSPORT for his feelings about that prospect, Brawn replied: "We could have regulations that say mandatory stops but as soon as you start messing about with the strategy from a management point of view... if you said 'what is wrong with it?', I couldn't tell you but intuitively I don't think it is right to have a regulated number of pitstops.
"We have to have one at the moment because we have to run both compounds,
"As for regulating a number of pitstops, maybe it will work, maybe we have to try it but I am not a great fan."
The mandatory pitstop idea was prompted by Pirelli's desire for its rubber to play less of a role in deciding races, following the criticism it has received amid its efforts to spice up F1 with greater tyre degradation.
Brawn said he sympathised with Pirelli and did not blame it for the quandary F1 found itself in.
"It is such a difficult thing to optimise because how conservative do the tyres need to be to allow the drivers to drive flat out for the whole race?" said Brawn.
"And if they are that conservative do we just one stop all the time?
"Trying to create a tyre where you drive as hard as you want and still have to change twice a race is a very, very difficult task."
He suspects the situation would be different if F1 still had competition between tyre manufacturers.
"I think we are evolving in a direction that is an inevitable consequence of a one-supplier formula and it is not the fault of the supplier," he said.