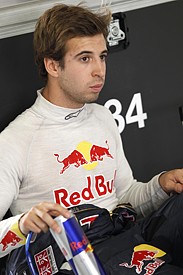 Antonio Felix da Costa and Sebastien Buemi will form Red Bull's test and reserve drive line-up during the 2014 Formula 1 season, the team announced on Friday.
Buemi has occupied the role since the start of the 2012 season, following two seasons racing at Toro Rosso.
The Swiss driver, who raced for Toyota in the World Endurance Championship in 2013, is joined by da Costa, who finished in third place in this year's Formula Renault 3.5 series.
The Portuguese, who is yet to be placed in a racing series for 2014, recently tested a BMW DTM car.
Da Costa had initially been tipped for a Toro Rosso race seat next season, but lost out to Daniil Kvyat.
Red Bull team boss Christian Horner said the lifting of F1 test restrictions next year made Buemi and da Costa's roles much more significant.
"It's great to be able to announce the signing of Sebastien and Antonio for 2014," said Horner.
"Next year sees the biggest change to the Formula 1 regulations for some time and the return of multiple in-season tests. To therefore be able to call on two such capable drivers is of huge benefit to the team.
"In Sebastien we have a great resource, a driver with extensive grand prix experience and that will be invaluable.
"Antonio, on the other hand, is an up-and-coming talent with whom we already have a good working relationship. I'm sure that his contribution will be just as important during what is sure to be an intensely busy season."