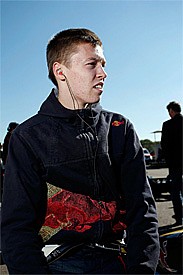 Daniil Kvyat might have been better off turning down the 2014 Toro Rosso Formula 1 seat, reckons Jenson Button.
In the wake of Toro Rosso's surprise decision to promote the GP3 championship contender, a number of F1 drivers have said they were taken aback by the leap of faith the Italian team has made.
Button, who himself famously made the step up to F1 from Formula 3 in 2000 after just two seasons of car racing, thinks the lack of testing and the radical regulation changes coming for 2014 will make things very hard for Kvyat.
"It's definitely tougher now," said Button, when asked by AUTOSPORT how Kvyat's move compared to his.
"There is a lot less testing than there used to be, so it is a lot more difficult. It is tough on the guy.

The truth behind Kvyat's STR drive
"Of course he is thinking it is a great break and he is going to race in F1 but, if you could have the choice of entering F1 at 19 after a year in F3 and GP3, or doing a couple of years in a different category, you would definitely go for a couple more years.
"That way you could learn a lot more about slicks and wings categories, and learn a lot more of the circuits you race on, and the way an F1 team goes racing.
"It is so different to anything else. In most [junior] teams you have 12 guys working for you, but in an F1 team you have 700 people working. It is a very different atmosphere.
"There is so much to learn that I didn't understand when I came into the sport, and it is a real shock for someone 19, who has to also learn to drive an F1 car and have to work with a KERS power unit, which is completely new and alien to most of us.
"I think it is so easy to go 'I want to be in F1 now'. So you take the opportunity. It is a lot more difficult to turn something down but that is the right thing to do for most people."
Paul di Resta is slightly baffled over Toro Rosso's risky choice in a year of major F1 changes.
"I think I was as shocked as anyone was," he said. "I was expecting one person to get the drive, but again it is not easy to predict this game at the moment, is it? Unfortunately that is where the midfield is. Nothing makes sense!
"It is a big year, and it is a big ask for someone who is 19.
"But he might come out of the box and shock us all. I don't underestimate anyone coming in, but it is a big jump from GP3 to come into F1 and a new regulation change. It was busy enough without it already getting busier next year."