Sergey Sirotkin has had his first taste of a Formula 1 car, demonstrating a 2013 Sauber in Sochi.
The 18-year-old will race for the Swiss team in 2014, subject to being granted a Super Licence by the FIA, and missed free practice ahead of the penultimate round of Formula Renault 3.5 to conduct the demo run.
He will also miss Saturday's qualifying and race one as he will be travelling to Paul Ricard.
Sirotkin drove a 700-metre stretch of the new Sochi circuit, which will host the 2014 Russian Grand Prix.
"These were my first metres in a Formula 1 car, which is obviously something very special even though it was only a short part of the Sochi track," said Sirotkin.
"Nevertheless, I was able to gain a first impression and this was awesome.
"It was fun to drive in front of such a big crowd, particularly because most of them were compatriots.
"Russia can be proud of this great track."
Sirotkin's next time in an F1 car will be at the end of October, when he begins serious preparations for his debut with a test programme driving a 2011 car.
FERRARI LIKELY FOR FULL TEST DEBUT
He is set to complete around 15 days of running before the end of the season to ensure he is ready for the start of pre-season testing next year.
Initially, Sauber had hoped to run him in one of its old cars, but has opted not to do so.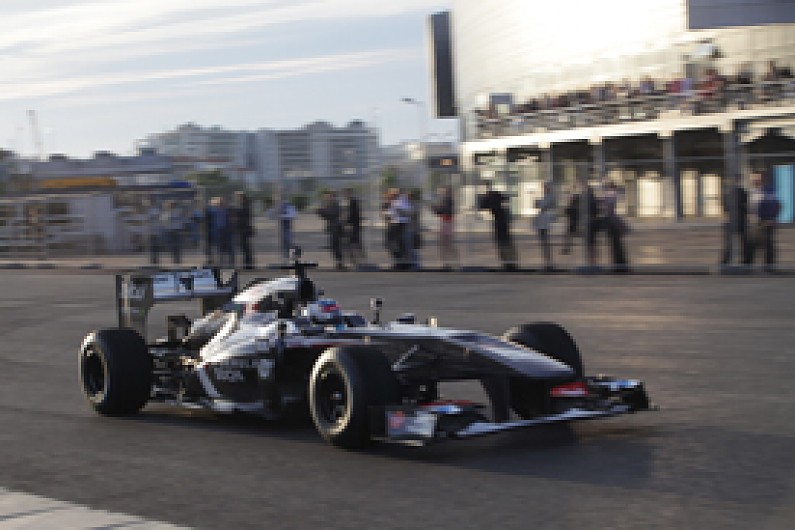 AUTOSPORT understands that he is set to drive a 2011 Ferrari, which Sauber team principal Monisha Kaltenborn would not confirm when asked about it in Singapore but did admit was a possibility.
This is believed to be because of practical obstacles in the way of running an old Sauber, primarily sourcing engines.
"Possibly," she said when asked by AUTOSPORT if Sirotkin would drive a Sauber.
"I don't think it's going to be a Sauber car because we felt it was easier not to take a Sauber."
The venue for his first test has yet to be confirmed, but it is set to be a track in Italy in late October.