Force India's hopes of keeping McLaren behind it hinge on achieving double points finishes, according to deputy team principal Bob Fernley.
The Silverstone-based team holds fifth in the constructors' championship, three points clear of McLaren.
But it has managed only one double top 10 finish this year in Australia, with a combination of bad luck, on-track incidents and pit-stop problems preventing Adrian Sutil from matching team-mate Paul di Resta's haul of four points finishes.
Fernley insists that this must improve to have any chance of beating McLaren over a season.

Force India: F1's great overachiever
"In order for us to have an opportunity to keep ahead of McLaren, not only do we have to work hard from a maintaining the pace point of view but we have to make sure that we get two cars in the points," Fernley told AUTOSPORT.
"At the moment, that is our weakness - we are not delivering both cars in the points when we have got the opportunity.
"It is recoverable, we just have to try and make sure we can deliver."
Fernley is satisfied with the progress the team made with its Spanish GP upgrades, which allowed di Resta to finish seventh.
He suspects that while the frontrunners have taken a step forward, Force India has consolidated its position at the front of the midfield.
"Some worked OK, for some it's back to the drawing board but that's the same for everybody," said Fernley of the Spain upgrades.
"Looking at it logically, possibly the top four have inched away from us a little and we've moved a tiny bit away from the midfield.
"McLaren are around us and we could either hold them or they will get ahead of us.
"To keep them behind will be very hard."
FORCE INDIA'S SEASON
AUSTRALIA
Adrian Sutil and Paul di Resta finish seventh and eighth, with the former leading the race in his first grand prix start since Brazil 2011.
MALAYSIA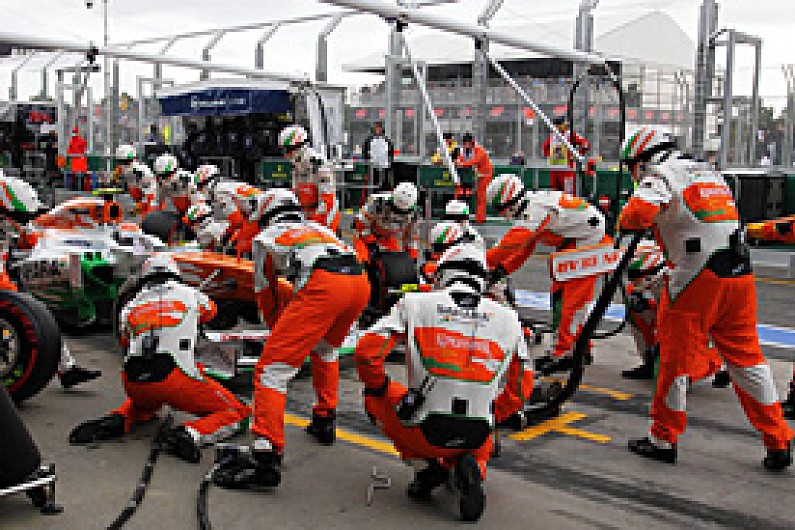 Both cars are odds on for points, but a retained wheelnut problem caused by a combination of the high ambient temperature and the heat generated by the heavy braking into the hairpin before the pit entry forces the retirement of both cars.
CHINA
After Sutil and Sutil clash on the opening lap, the German is taken out of the race by Esteban Gutierrez, who locks up and hits him at the hairpin. Di Resta finishes eight.
BAHRAIN
Both cars start from the fifth row, but Sutil's hopes of points are ruined when he suffers a puncture after contact with Felipe Massa on the first lap. Di Resta narrowly misses out on a podium in fourth.
SPAIN
Di Resta has a strong run to seventh place, but after a great first lap to climb to eight, Sutil drops out of points contention thanks to a crossthreaded wheelnut at his first stop.