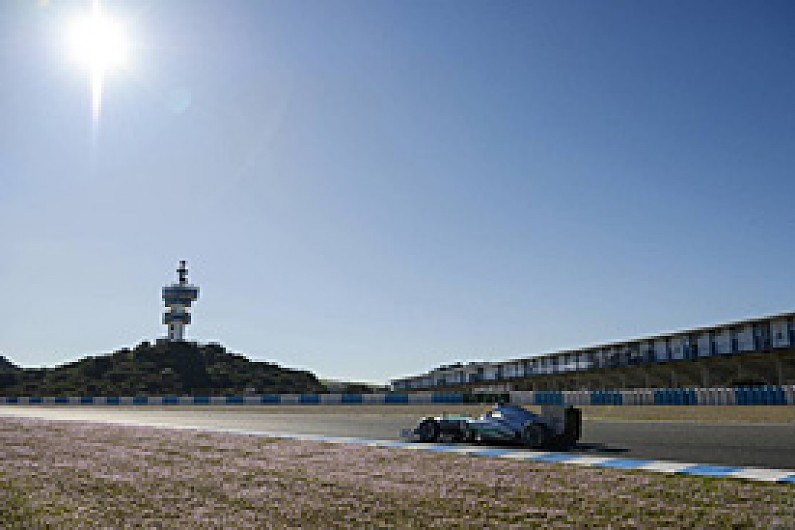 Formula 1's new cars are set to run for the first time in January next year as teams work on finalising a revamped pre-season build-up for the new 2014 regulations.
With the switch to 1.6-litre V6 turbo power units prompting all-new cars for next season, teams have already been discussing a totally revised testing plan ahead of the campaign in a bid to ensure that everyone is as ready as possible for the first race.
Although no dates have yet been formally approved, AUTOSPORT has learned that F1 teams are now gearing up for an earlier than usual start to running because of the desire of engine manufacturer to get some track mileage done in January.
They are currently edging towards a plan of getting a test done at Jerez in Spain in late January next year - most likely either the week beginning January 20th or January 27th - prior to some tests in the Middle East.
Although Article 22.4 of F1's Sporting Regulations currently outlaws track testing in January, the FIA is currently reworking that rule so it can then be approved by teams.
It is hoped this can be ratified at the next meeting of F1's Sporting Working Group that takes place ahead of the Spanish Grand Prix next month.
INTERIM CAR NOT A REALISTIC OPTION
The green light for a January test would leave the door open for teams to prepare an interim test car for the engine test, but such a scenario appears unlikely because of the huge drain of resources that would require amid the extensive effort needed just to get a 2014 contender up and running.
Instead, with the test taking place in late-January, it is almost certain teams will opt to bring forward the launches of their 2014 cars from early February, as they have been for recent years, to late January.
Mercedes team principal Ross Brawn believes any development time lost in having to fast track the design of the 2014 car would be more than beneficial if it meant getting on top of the engine situation better for the first race.
"We will have to anticipate the programme by two or three weeks, but you have to look at everything in around," he told AUTOSPORT.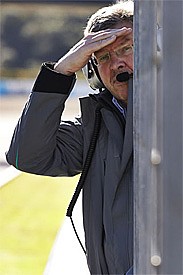 "If we leave it late, for our car that is okay. But, if it has an engine that carries over some problems into the start of the season, that is no good either. You have to find the right balance.
"It [a late January test] does mean we can go testing with the proper car, and if we had brought it a long way forward [to early January] then you would have ended up building a test car for the engine and then a race car for later - and you would certainly have pushed the race cars as late as you possibly could.
"I think every team is going to want to be out early with the new engine and understand it. It is kind of early enough but not so early that it justifies building a special car to do it.
"I am sure everybody will build their proper race car, even if it is with launch spec of bodywork, to do that work - so there will only be one car."
Renault engine chief Rob White said that plans for a late January test with both new cars and engines would be the best way to begin track work for 2014.
"My strong view is that only sensible outcome is the one that is shaping up - that we will run the cars for the first time in early 2014, and that it only makes sense to run real 2014 cars," he told AUTOSPORT.
"If you tried to build an interim car, then there would be a chasing your tail effect.
"To do it early enough to gain from it, you would have to fix the spec so much earlier and you would have needed to have started work on it well before the moment teams actually started [on their 2014 cars]."
WARM TESTS TO AVOID 'MESSY' SEASON OPENER
Following the January test, teams are hoping that the plans for one or two tests in the Middle East do come off, but much depends on the shape of the calendar and whether or not Bahrain is slotted in as the season opener.
Warmer tests would not only help in understanding the tyres - after the difficulties faced this winter due to cold running in Barcelona - but would be invaluable in ensuring teams did not encounter a troubled start to the new engine rules.
Brawn added: "The main thing is to give the engines and power trains a good work out at high temperature because, if the first time we get to try the new powertrain is Bahrain or wherever the first race is next year, it could get very messy.
"And we don't want that - we want to avoid it."