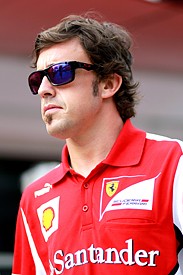 Fernando Alonso has no doubts that his decision to skip the first Formula 1 pre-season test will pay off.
The Spaniard will not drive Ferrari's new F138 until the second test at Barcelona, with Felipe Massa and Pedro de la Rosa being the only drivers running at Jerez next week.
Alonso wants to use the time to get himself in peak physical shape ahead of a championship that he expects will be much tighter at the front than 2012 was.
"I will follow the tests with great interest and all the information that comes back from Jerez I will be looking at," said Alonso at the launch of Ferrari's new car in Maranello on Friday.
"In the next few weeks I will certainly be concentrating on preparing for the championship.
"I was busy [with the team] in December and January, and up until a week ago we were involved in activities.
"So, it is right to step back and prepare a bit so I am 100 per cent from Australia to Brazil.
"We are lucky in this team to have a real good level of trust between us. We trust each other explicitly. We have an extended team; we are not just one person..."
Ferrari president Luca di Montezemolo said the decision had been taken by the team.
"The decision was made by the team, not the drivers. We make the decisions in agreement with them," he said.
"It will give additional training time for Fernando. The Jerez tests will not focus directly on performance, so we decided to continue his preparation so he will be ready for Barcelona, where we will concentrate more on performance."
Alonso's consistency in 2012 helped him fight for the championship until the final round in Brazil, as the victories were shared between six different teams in a wide-open campaign.
But he thinks that with fewer technical rule changes this winter to shake things up, the forthcoming campaign will be different.
"I think it will be very difficult to repeat what we saw last year, with seven winners in the first seven races, I think that really was a one-off," Alonso said.
"With the new rules F1 was more different. In the second half of the season, with things more stabilised, the top teams emerged.
"Those that had won in the last few years, they came through.
"I think there will be two or three teams that will practically win all the races, and we have to be one of those teams."
Ferrari F138 - full coverage:
Ferrari presents the F138 in Maranello
Ferrari F138 in pictures
Technical analysis: Ferrari F138
Ferrari stays realistic on goals for F138
Analysis: Ferrari right to be optimistic