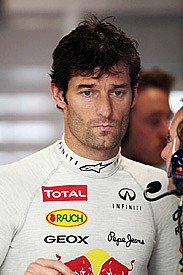 Mark Webber says he will not consider retiring from Formula 1 until he feels his skills are waning.
The 36-year-old Australian will be F1's oldest driver next season after the departures of Michael Schumacher and Pedro de la Rosa.
But Webber is not the longest-serving driver on the grid, with Jenson Button and Fernando Alonso having made their debuts prior to the Australian's 2002 rookie campaign with Minardi.
Webber believes his age is less relevant to his long-term future than what he is delivering on track.
Although he could not match Red Bull team-mate Sebastian Vettel's title-winning campaign this year, Monaco and British Grand Prix winner Webber is still certain he is capable of a world championship campaign.
"I'm not at the start of the career, I know that. I'm more towards the back end of my career," he said.
"My goal is to put together a campaign. I have fought for championships and I've had some good and very special memories over the past few years.
"Your peak is all relative. You've got to piece it all together.
"And you've got to be honest with yourself and say 'look mate, it's the right time now' - and I don't think it is the right time now."
He feels he is still a big enough threat to Vettel on pure pace.
"If I got spanked 20-nil in qualifying then yeah it's obvious, the alarm bells are ringing," Webber said.
"Until that point comes where you feel that you're not getting the most out of yourself, and you're sliding, then you need to keep pressing on.
"That's all we can do next year."