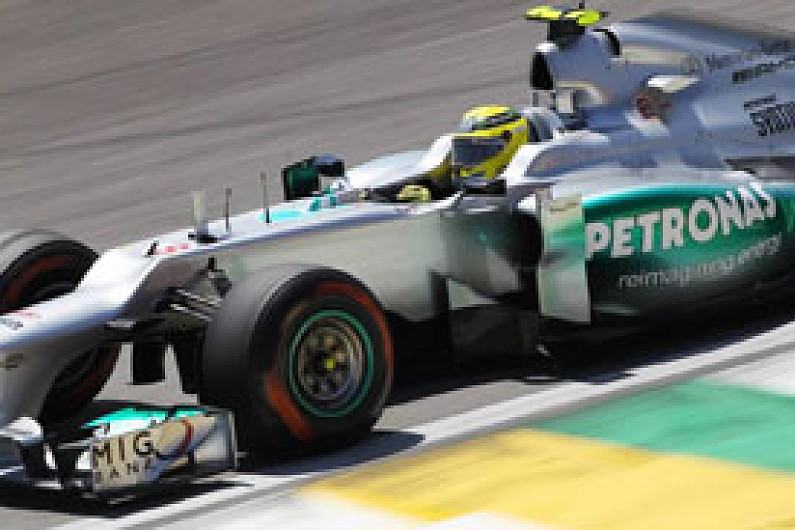 Formula 1 teams now have enough tyre expertise to avoid a repeat of 2012's early 'random' results next season, reckons Mercedes boss Ross Brawn.
The first seven grands prix of 2012 featured seven different winners from five different teams, with form fluctuating wildly.
Difficulty in getting this year's Pirelli tyres into the correct operating window was pinpointed as the reason for the unpredictability.
Pirelli is revamping its compounds again for 2013, but Brawn says top teams have made concerted efforts to avoid getting caught out.
Asked by AUTOSPORT if he expected another tyre-induced shake-up in the order next year, Brawn replied: "I think the process on the part of the teams will be much stronger.
"We've been through a period where the tyres were fairly benign and we didn't need a lot of tyre expertise within the team.
"With the Pirelli tyres, there was far more potential to get it right or wrong, and we needed to create or strengthen the expertise.
"I think all the top teams have now got a lot of [tyre] expertise within their groups. Therefore when we start on the new tyres next year, we'll have a much stronger organisation to support it."
Brawn admitted the potential for teams to get wrong-footed by the new Pirellis' behaviour had been reduced rather than eliminated.
"That doesn't mean to say we won't get caught out, because of course we do three tests in cold weather in the winter then really start stressing the tyres when we get to the first race," he said.
"But I think the teams are more competent now in their strengths and ability to understand and use the tyres properly."
Autosport has produced a standalone special magazine to celebrate our 70th birthday. All current print subscribers will receive a copy for free. To order your copy of the 196-page Autosport 70th Anniversary issue, please go to: autosport.com/autosport70th