Sauber has confirmed that Esteban Gutierrez will be promoted from its reserve role to a race seat alongside Nico Hulkenberg for the 2013 Formula 1 season.
Team boss Monisha Kaltenborn is confident that the 21-year-old Mexican, a long time Sauber protege, is now ready to be on the F1 grid.
"Esteban has already been part of the team for a long time and we have followed his career very closely," she said.
"In 2010 we signed him up as an affiliated driver, and in 2011 and 2012 he was our test and reserve driver. We mapped out his path to Formula 1 step by step.
"Esteban has great talent and now he's ready to take the leap. We are in no doubt we have a strong driver pairing in place for the 2013 season with Nico Hulkenberg and Esteban Gutierrez."
Gutierrez's appointment was inadvertently revealed on Thursday at Interlagos when outgoing Sauber driver Sergio Perez referred to his countryman as having secured the second 2013 race seat. Perez and Gutierrez share the same Mexican backing.
"After three years working with Sauber I feel very grateful for all the attention I have received from everyone in the team and for all their input, which has allowed me to develop into a Formula 1 driver in a very progressive way," said Gutierrez, who won the 2010 GP3 title before spending two years in GP2.
"Now, after experiencing other categories of racing as an introduction to Formula 1, this is the start of the real challenge to succeed at the pinnacle of motorsport."
The announcement means Kamui Kobayashi is unlikely be on next year's F1 grid. Perez has already secured a McLaren seat for 2013.
Kaltenborn thanked Kobayashi for his contribution to Sauber since joining in 2010.
"Over the last three years Kamui has shown us he is not only a fierce competitor on the track, but also a wonderful person and fantastic team player," she said.
"Every member of our team has the greatest respect for him, and his podium in Japan was a particularly emotional moment for all of us.
"This has not been an easy decision for us to take, but we have committed ourselves to a new beginning and our time with Kamui will come to an end after the final two races of the season. We wish Kamui all the best for the future."
AUTOSPORT says
News editor Glenn Freeman
On paper, Esteban Gutierrez is Sergio Perez mk II. He has come through the same Escuderia Telmex scheme, and has been waiting in the wings at Sauber while his countryman took podium finishes on his way to securing a promotion to McLaren for 2013.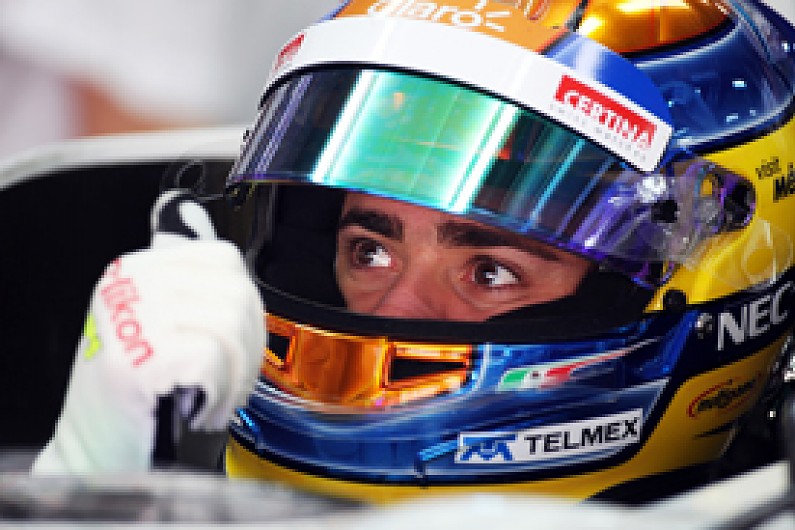 Gutierrez's junior CV has its highlights: he has Formula BMW Europe (2008) and GP3 (2010) titles to his name, but some of his other seasons beg a few questions.
In the 2009 F3 Euro Series he was a rookie at superteam ART Grand Prix. The squad's other rookie - current Williams F1 reserve Valtteri Bottas ­- was third in the standings (and a regular thorn in the side of champion Jules Bianchi) while the Mexican was only ninth.
The GP3 crown a year later built some career momentum, and in a fiercely competitive 2011 GP2 field his 13th place in the standings was respectable.
But 2012 should have been the year for a title push, much like Perez managed in his second season in 2010. Gutierrez ended the year third, but he was a long way behind behind category veterans Davide Valsecchi and Luiz Razia.
And were it not for some awful misfortune for his rookie team-mate James Calado at the end of the year, Gutierrez would have finished behind the Briton as well.
When you add into the mix that Gutierrez will have arguably a tougher team-mate for his rookie F1 season (Nico Hulkenberg) than Perez did, and a very exciting prospect in Robin Frijns waiting in the wings, he can't afford too many off days in 2013.
To say he's not deserving of a chance to prove himself would be harsh. After all, he has twice as many GP2 main series wins to his name as Kamui Kobayashi. The Japanese had a best championship position of sixth, and was only 16th in the year he got his surprise chance with Toyota.